Vocational Endorsement
gain college experience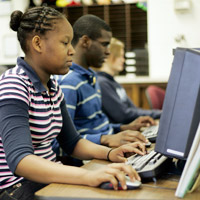 The academy and Andrews University cooperate to offer a program by which a student may take courses offered by the appropriate College of Technology department while enrolled as an academy student. As long as space is available, this program is open to any third or fourth year student who exhibits a serious interest in vocational training.
To qualify, a student must maintain a satisfactory attendance record at the academy and be in good and regular standing. The student's total study load may not exceed the normal full load as specified for that semester and it may be further restricted by the Academic Affairs Committee.
Application for the Vocational Studies Program must be made during the semester or summer preceding the term in which the student plans to take the course work. Secondary credit is earned and recorded on the student's academy transcript. The regular tuition charges are made. Any special fees for materials or laboratory expenses which may be necessary are the responsibility of the student. Application is made through Academic Affairs Committee.