ESL Students
test your proficiency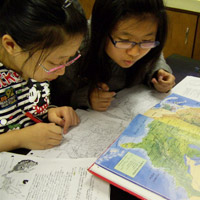 ESL status is granted for one year to non-native English language students. This allows the student to attend regular classes and receive credit if they maintain an appropriate grade. They may receive a grade of AU (audit) for a class in which their grade is below C-. This allows time for a student to learn English without the penalty of failing grades. Full tuition will be charged for ESL status.
To graduate with a College Preparatory Diploma, non-native English language students must pass one of the standard English language proficiency tests, i.e., the TOEFL (Test of English as a Foreign Language) or MELAB (Michigan English Language Assessment Battery) with a score of 550 on the TOEFL or an 80 on the MELAB. Failure to pass a proficiency test may result in a General Curriculum Diploma. These test results are not required for admission.
English language proficiency may be developed and improved during an ESL study class period with our Academic Advancement Placement Team (AAPT) coordinator.