Scholarships
feeling smart or lucky?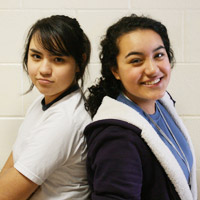 Two types of scholarships are awarded to specific incoming students.
ACADEMY DAY PRIZES
Several $50 tour or textbook discounts are awarded during a drawing on Academy Day to potential students in attendance that day.
MERIT-BASED SCHOLARSHIPS >> DOWNLOAD DOCUMENT
Andrews Academy is pleased to present a new financial aid plan with the goal of removing finances as the primary impediment to enrollment. The academy recognizes that many families will find it difficult to afford the annual tuition and therefore has chosen to more than double the amount of money dedicated to the financial support of its students.
For the 2011-12 school year, nearly every student will receive financial aid which will reduce the cost of attending Andrews Academy. This scholarship will be automatically applied. No application is required.
The plan has multiple components, including need-based aid and, for the first time, a comprehensive merit-based scholarship program. Andrews Academy values, and wishes to support, all young people and families who desire a high quality Adventist Christian education.
Enrollment at Andrews Academy will still require a commitment and financial sacrifice from most families. The academy's Operating Board has adopted this plan as a one-year pilot program. The plan represents a major financial investment and the feasibility of continuing it into future years depends on the plan's success in helping to increase Andrews Academy's enrollment.