Tours & Trips
FB - Chicago Field Trip
In the past, each year the Foundations of Biology Class (FB) has gone on an overnight trip in April to Chicago's Field Museum, Indiana Dunes State Park, and Mud Lake Bog. They have spent a night in a motel in Chesterton, Indiana near the Dunes. That night they enjoy pizza while studying about what they have seen the first day and will see the next day. It's a fun way to learn new things, see things they have been studying about all year and get better acquainted with the students they have been with all year in one of the Department of Biology's largest classes. FB sets the stage for what you will learn as you go through 4 years of Biology with us. It really is the foundation for what is to come.

Spring 2011 - AFRICA
Tanzania & the Serengetti
May Express is a concentrated month of one class. The 2011 Biology Class, Environmental Science, teamed up with other classes from the College of Arts & Science to go to Africa. They studied their topics and locations intensively for the first week of May and then they left for the "Dark Continent". It was an exciting adventure with loads of new sights, sounds, and smells. Truly a learning "Extravaganza" !!!!
You never know where you might end up when you come to Andrews to study. We are truly an international school in more ways than one.

Land Rover Lineup

On Safari - Up close and personal
Thousands of Wildebeasts on Migration. What a Spectacle to behold !

Andrews student with Masai Warrior
Work, Fun, and Learning all go hand in hand.
Ornithology - May 2012
Every other year the Ornithology class goes on a 10-day Field Trip around Lake Michigan. They explore wildlife refuges in Michigan, as well as Michigan's SDA Camp AuSable looking for feathered friends on the wing. They also visit Point Pelee National Park in Canada.
This is a super fun way to get credits for Biology, study birds and get acquainted with other students, as well as see the Michigan coast and some of Canada, too. But bring a warm coat because in April around the Great Lakes it can be pretty chilly. See the photo of the group by the Whitefish Point sign.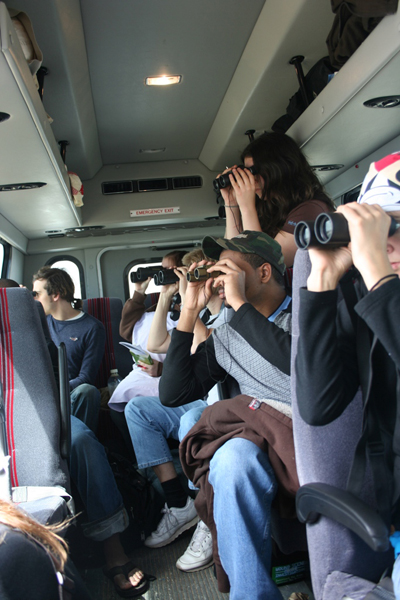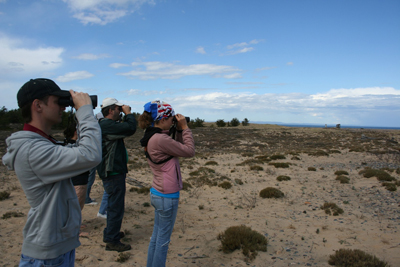 Florida Keys and Everglades - March 2010 & 2012
From March 10-22, thirteen AU biology students and two faculty participated in a field trip to south Florida to study the remarkable and fragile ecosystems of the region. Participants spent one day at Corkscrew Swamp Wildlife Sanctuary; canoed through the mangroves of the 10,000 Islands to reach Lulu Key, where the class camped and studied intertidal marine life; travelled to the Florida Keys for a day of snorkeling and study of marine life along the rocky eastern coast; and visited multiple terrestrial and freshwater habitats in Everglades National Park. "This is how you really learn biology–by experience!" notes Tom Goodwin, biology teacher and one of the trip leaders. Goodwin and Gordon Atkins, also a biology professor, have run the tour every other year during spring break since 1996.
See Student Site on Natural History of the Everglades and Florida Keys

Amanda Wageman, Sara Goodwin, Rachel Ballast, and Adrienne Asumbrado (from left to right) examine marine creatures at Lulu Key in the Florida Everglades.

Students and teachers leaving Lulu Key by canoe, after a night of camping and study.

Valeria Moseley examines a horseshoe crab up close.

An alligator yawns at Paroutis Pond, Everglades National Park.

A student holds a conch shell with body extended at Bahia Honda State Park, Florida Keys.
Every other year during Spring Break a small group of students have the fun and adventure of going to the Florida Keys and Everglades. Daily touring experience will include lectures, field observations, web-site development, photo documentation, field notes, and collaborative research. Students will enjoy hands-on ecology and natural history on land and in the water through activities such as canoeing and snorkeling. Come to Andrews and find out how you, too, can be a part of trips such as this one.




See Student Site on Natural History of the Everglades and Florida Keys
Amazon - A Number of Times
Swimming with piranhas, sleeping in a thatched roof house, crossing a hanging bridge, searching for the rare Amazonian pink dolphin and checking out the grubs - fresh or fried - at the local market were just a few of the adventures students had when they spent spring break in the Amazon rainforest. This Department of Biology sponsored tour gave students the opportunity to learn about medical botany and rainforest ecology first-hand. They saw exotic plants, animals, scenery and people and came away with memories that will last a life-time.