Chile — January 2015

For those who would like to spend time visiting Chile or who live in South America, this venue would be an excellent choice.
Universidad Adventista de Chile's staff is pleased to accommodate you, your friends or your family in one of it's dorm rooms.
Transportation
The Universidad Adventista de Chile is located Km 12 from Chillán, Chile.
Notice
Students beginning at this stage are hereby notified that not all courses required for the degree will be available in the Spanish language. However, the balance of courses required will be available in the English language at other IDP sites.
Universidad Adventista de Chile

Casilla 7-D
Camino Las Mariposas Chillán, Chile
Tel: +56-42-433500
Email:
Website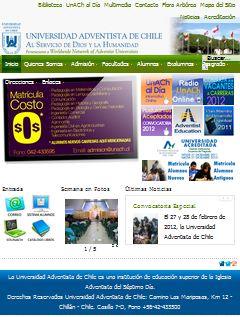 View Larger Map