Announcements
October 2, 2010
Tribute for Dr. Gary Land
For Service to the J.N. Andrews Honors Program
I'm delighted to represent the J.N. Andrews Honors Program in extending thanks to Dr. Gary Land for his years of services to Andrews University and to our Honors Program in particular. When the Honors Program transformed its general education offerings into the SAGES curriculum ten years ago, Dr. Land began teaching the elective course, Meanings of America, which introduced students to primary readings examining the land, religion, and peoples that form this nation. His students in that course have repeatedly expressed their amazement at the breadth and depth of Dr. Land's knowledge - ranging from popular music, to the history of baseball, to the journals of the Lewis and Clark expedition. In class, Dr. Land demonstrated a commitment not only to delivering information through lecture but also to soliciting and engaging student critical analysis through vigorous discussion.

Dr. Land also enriched the Honors Program by participating as an active member of the Honors Council for many years. His encyclopedic knowledge of university policies and his considerable memory of the contexts which produced those policies made him an invaluable contributor to the program's own decision-making. In addition, he chaired one of the Honors Council subcommittees charged with vetting the quality of senior Honors Thesis proposals. During those years of service, Dr. Land raised the standard of Honors undergraduate research by holding our students to a higher level of accountability in the areas of primary research questions and hypotheses and secondary sourcing. Such an achievement with our students is deeply rooted in Dr. Land's own example of tireless research excellence.

In fact, several of my colleagues have asked me this fall, "Is Gary really retired? I keep seeing him in the library. What's he doing?" Dr. Land may have retired from the classroom and the committee roster, but he carries on the lifetime's work that is scholarship. Since we know he does not plan on closing his laptop or putting down his pen, the Honors Program would like to present him with an elegant writing instrument to match the gentle elegance and excellence of Dr. Land's achievements as a teacher and scholar. We already miss you in the halls of Nethery, Dr. Land, but we wish you every good thing in retirement and the much-deserved leisure to continue reading and thinking without that looming pile of papers to grade.

--L. Monique Pittman, PhD
Director of Honors
Associate Professor of English
Date: December 8, 2009
Our Wonderful Honors Hoodies Are Now Available
Newly designed Honors Hoodies are now available for pre-order. These navy zip hoodies feature the traditional Honors logo embroidered in gold. The $27.00 cost can be charged to AU student accounts or paid by cash or check. Sizes include Women's S, M, L, XL, 2XL and Men's S, M, L, XL, 2XL, and 3XL. Samples can be tried on at the Honors Office. Orders received by 11 December will be ready for pick up in January, and orders received by 13 January will be ready by the first of February. To place your order, email Dr. Pittman at pittman@andrews.edu or honors@andrews.edu.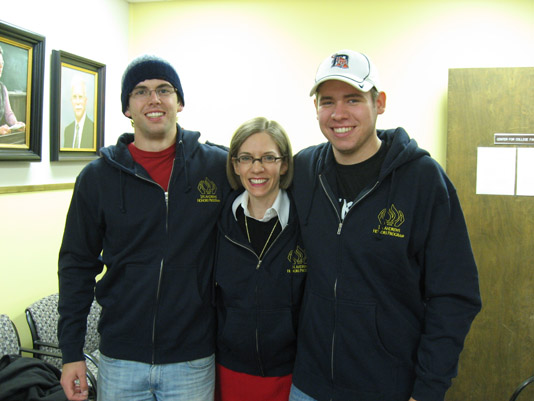 Date: May 1, 2009
I'm happy to announce that we have a great roster of Honors Officers
lined up for next year. Thanks for voting and for indulging in a hoagie
earlier this week. Our officers for next year are as follows:

President, Myles Compton
Vice President, Jonathan Koch
Social Coordinator, Denny Hong
Academic Affairs Officers, Adrienne Asumbrado and Kelley Wolff
Secretary, Sunny Kim
Public Relations Officer, Melissa McCormick

If you have suggestions for activities and outings for next year, please
be in touch with any of the officers as well as myself.
Date: April 29, 2008
Today the Honors Officers for the 2008-2009 school year were voted on. We are proud to announce the following members of our J. N. Andrews Honors Society who will be serving us this coming year as:
President: Kristin Lee
Secretary: Eileen Corredera
Academic Affairs Officer: Pharez Rolle
Spiritual Vice President: Richie Charles
We still have some positions to fill, about which we will update you as they are approved.
Date: September 10, 2007
Starting this fall, L. Monique Pittman will add to her duties as a professor in the department of English the new responsibilities of director of the John Nevins Andrews Honors Program.

Since she started teaching at Andrews in 1999, Pittman has contributed to the program both as a member of the Honors Council, and as the teacher of "Literature and the Arts." Her efforts won her the award of Honors "Teacher of the Year" in 2002.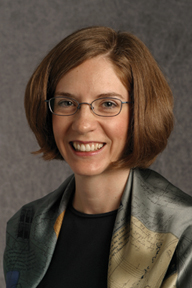 Pittman's affiliation with the program, however, extends back to her time as a student at Andrews, where she graduated in 1991. As a product of the Honors program, Pittman holds a personal interest in it. "I'm thrilled to be given the trust of overseeing a program that has been such a part of my own academic formation," she says. "When I came to Andrews, I joined the Honors Program as a freshman, and it was in those early days of honors classes that I found my own vocation as a Christian educator and my life's calling to learning."

As director, Pittman plans to expand the Junior Research Pro-Seminar as a preparation ground for the Honors Research Project, which stands out alongside the Honors curriculum as a major requirement for graduation from the program. "Our culminating research project offers students a rich opportunity to test out the waters of research and scholarship that they may embark further on in graduate and professional school programs," says Pittman.
In spite of the added workload, Pittman is excited about her future as Honors director. "I've taught in the program for the last eight years and thoroughly enjoyed it," she says. "The students are caring, humane and thoughtful individuals with whom it is a pleasure to learn. It gives me joy to be working with them."