Doctor of Physical Therapy
In keeping with the growth and advancement of the profession, Andrews University offers the Doctor of Physical Therapy (DPT) as its entry-level degree. The DPT curriculum better prepares students for independent practice by emphasizing areas such as differential diagnosis, pharmacology, radiology, health promotion & wellness and practice management.

More Information About the DPT Degree
Historically, patients have been required to have a physician referral in order to see a physical therapist for treatment. However, increased recognition of a physical therapist's skills in diagnosing, treating, and preventing illness and injury has led the profession to re-evaluate its goals for the future and move toward more autonomy in patient care.
According to the American Physical Therapy Association (APTA), "the vision for the future of the profession is that by 2020, physical therapy will be provided by physical therapists who are doctors of physical therapy, recognized by consumers and other health care professionals as practitioners of choice to whom consumers have direct access for the diagnosis of, interventions for, and prevention of impairments, functional limitations, and disabilities related to movement, function, and health."
At Andrews, we are proud to be on the cutting edge of this trend toward more autonomy in patient care. A clinical doctorate degree in physical therapy is consistent with professions such as medicine, pharmacy, osteopathy, dentistry, podiatry, and veterinary medicine.
The Entry-Level Doctor of Physical Therapy Program at Andrews University is accredited by the Commission on Accreditation in Physical Therapy Education (CAPTE) of the American Physical Therapy Association, 1111 North Fairfax Street, Alexandria, Virginia 22314; telephone: 703-706-3245; email: accreditation@apta.org; website: www.capteonline.org.

Professional Program Curriculum
Students follow a single track curriculum in classroom, laboratory, and 40 weeks of clinical experience in various settings designed to prepare them to become evidenced-based practitioners.
The professional curriculum begins with the foundational sciences and basic assessment/intervention skills and progresses to the more complex systems approach. Students who do not have a 4-year degree upon admission will receive a Bachelor of Health Science degree at the completion of the first year.
Additional components in the final two years include a graduate research project and four clinical internships. Upon successful completion of the third year in the program students earn the Doctor of Physical Therapy (DPT) degree and are eligable to take the National Physical Therapy Exam which qualifies them to practice in the state of their choosing.

DPT Prerequisite Requirements
A minimum of 92 semester credits from any accredited college are required. Specific science and general course requirements are identified on the prerequisite list on the DPT Admissions Page.
Eighty (80) hours observation of physical therapy patient care supervised by a licensed physical therapist in at least 2 distinctly different physical therapy patient care settings. A minimum of 20 hours must be observation in an inpatient setting. Applicants employed in a physical therapy department in direct patient care have fulfilled this requirement as long as at least 20 hours have been inpatient care. Clinical observation hours for admissions criteria must be completed less than three years prior to admission.
The DPT Program
Prerequisites: 3 years / 92 semester credits
Professional program: 3 year / 9 semesters
Clinical education: 40 weeks within the professional program
Enhanced learning in areas of:
differential diagnosis
radiology
pharmacology
clinical screening and case management
practice management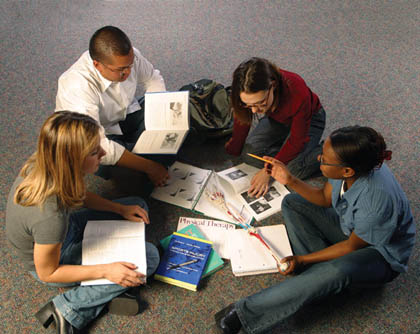 DPT TECHNICAL STANDARD OF PERFORMANCE
Based on the Doctor of Physical Therapy Philosophy, the intent of the program is to graduate individuals who are prepared for all responsibilities and privileges of autonomous physical therapy practice. To function as a physical therapist at entry-level, students must be able to complete, with reasonable accommodation as necessary, certain psychomotor, cognitive, communication and behavioral skills. If a student cannot demonstrate theses skills, it is the responsibility of the student to request appropriate accommodation. The University will provide reasonable accommodation as long as it does not fundamentally alter the nature of the program and does not impose undue hardship such as would cause significant expense or be disruptive to the educational process.
Standards
The student must be able to perform at least the following skills safely and reliably while in the DPT program:
Psychomotor Skills:
Get to lecture, lab and clinical locations, and move within rooms as needed for changing groups, partners and workstations.
Physically maneuver in required clinical settings, to accomplish assigned tasks.
Move quickly in an emergency situation to protect the patient (e.g. from falling).
Maneuver another person's body parts to effectively perform evaluation techniques.
Manipulate common tools used for screening tests of the cranial nerves, sensation, range of motion, blood pressure, e.g., cotton balls, safety pins, goniometers, Q-tips, sphygmomanometer.
Safely and effectively guide, facilitate, inhibit, and resist movement and motor patterns through physical facilitation and inhibition techniques (including ability to give time urgent verbal feedback).
Move or lift another person's body in transfers, gait, positioning, exercise, and mobilization techniques. (Lifting weights between 10-100+ lbs).
Manipulate evaluation and treatment equipment safely, and accurately apply to clients.
Manipulate bolsters, pillows, plinths, mats, gait assistive devices, and other supports or chairs to aid in positioning, moving, or treating a patient effectively. (Lifting, pushing/pulling weights between 10-100lbs).
Competently perform and supervise cardiopulmonary resuscitation (C.P.R.) using guidelines issued by the American Heart Association or the American Red Cross.
Legibly record thoughts in English for written assignments and tests.
Legibly record/document evaluations, patient care notes, referrals, etc. in standard medical charts in hospital/clinical settings in a timely manner and consistent with the acceptable norms of clinical settings.
Detect changes in an individual's muscle tone, skin quality, joint play, kinesthesia, and temperature to gather accurate objective evaluative information in a timely manner and sense that individual's response to environmental changes and treatment.
Safely apply and adjust the dials or controls of therapeutic modalities
Safely and effectively position hands and apply mobilization techniques
Use a telephone
Read written and illustrated material in the English language, in the form of lecture handouts, textbooks, literature and patient charts.
Observe active demonstrations in the classroom.
See training videos, projected slides/overheads, X-ray pictures, and notes written on a blackboard/whiteboard.
Receive visual information from clients, e.g., movement, posture, body mechanics, and gait necessary for comparison to normal standard for purposes of evaluation of movement dysfunctions.
Receive visual information from the treatment environment (e.g., dials on modalities and monitors, assistive devices, furniture, flooring, structures, etc).
Receive visual clues as to the patient's tolerance of the intervention procedures. These may include facial grimaces, muscle twitching, withdrawal etc.
Hear lectures and discussion in an academic and clinical setting.
Distinguish between normal and abnormal lung and heart sounds using a stethoscope.
Cognitive Skills
Receive, interpret, remember, reproduce and use information in the cognitive, psychomotor, and affective domains of learning to solve problems, evaluate work, and generate new ways of processing or categorizing similar information listed in course objectives.
Perform a physical therapy examination of a client's posture and movement including analysis of physiological, biomechanical, behavioral, and environmental factors in a timely manner, consistent with the acceptable norms of clinical settings.
Use examination data to formulate a physical therapy evaluation and execute a plan of physical therapy management in a timely manner, appropriate to the problems identified consistent with acceptable norms of clinical settings.
Reassess and revise plans as needed for effective and efficient management of physical therapy problems, in a timely manner and consistent with the acceptable norms of clinical settings.
Communication Skills
Effectively communicate information and safety concerns with other students, teachers, clients, peers, staff and personnel by asking questions, giving information, explaining conditions and procedures, or teaching home programs. These all need to be done in a timely manner and within the acceptable norms of academic and clinical settings.
Receive and interpret written communication in both academic and clinical settings in a timely manner.
Receive and send verbal communication in life threatening situations in a timely manner within the acceptable norms of clinical settings.
Physical Therapy education presents exceptional challenges in the volume and breadth of required reading and the necessity to impart information to others. Students must be able to communicate quickly, effectively and efficiently in oral and written English with all members of the health care team.
Behavioral Skills
Maintain general good health and self-care in order to not jeopardize the health and safety of self and individuals with whom one interacts in the academic and clinical settings.
Arrange transportation and living accommodations to foster timely reporting to the classroom and clinical assignments.
Demonstrate appropriate affective behaviors and mental attitudes in order not to jeopardize the emotional, physical, mental, and behavioral safety of clients and other individuals with whom one interacts in the academic and clinical settings and to be in compliance with the ethical standards of the American Physical Therapy Association.
Sustain the mental and emotional rigors of a demanding educational program in physical therapy which includes academic and clinical components that occur within set time constraints, and often concurrently.
Demonstrate professional behaviors and a commitment to learning as outlined in section 3 of the DPT Student Handbook.