BS in Nutrition and Dietetics

Disclaimer
The information on these web pages is for information purposes only. While every attempt has been made to provide accurate information, the Andrews University Bulletin is the final and authoritative guide on regulations such as admission, general, core, major, and cognate requirements.


Click Here for the 2014-2015 bulletin

-----------------------------------------------------------------------------------
Quick Reference Links
Our Accreditation

-------------------------------------------------------------------------------
Check out the Academy of Nutrition and Dietetic's (AND) video on Dietetics:
Click picture for video to open in a new window - then choose the "Careers in Dietetics - The Sky is the Limit" video on the right hand side.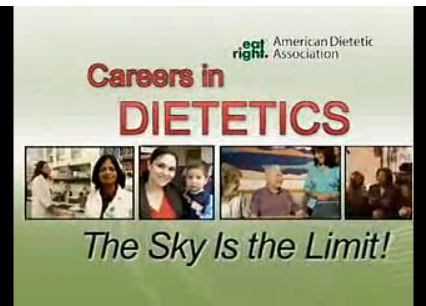 DIDACTIC PROGRAM IN DIETETICS (DPD)

The Didactic Program in Dietetics (DPD) at Andrews University includes two academic components: pre-Dietetics and Dietetics. The first component (Pre-Dietetics) consists of two years of study in which the student completes 35 credits of prerequisite and general education courses. The second component (Dietetics) consists of a two-year period in which 38 credits in professional and cognate courses are completed. The dietetics concentration can be completed in 76 credits, with 124 total credits needed for graduation. During the Spring semester of their final year, students must register for FDNT490 Review Course for the Comprehensive Exam. Satisfactorily passing the Comprehensive Exam is necessary for a student to be able to receive the verification form for their DPD completion. Application for Phase 2 of the Dietetics Program should be sent to the Program Director by May 15th for the next school year. After the four years, the student will need to apply for a Dietetic Internship (which is required in order to become a Registered Dietian). We offer a Dietetic Internship through our department - see the Internship link for more details.
The B.S. degree prepares the student to become a Registered Dietetian (RD). THe RD's fundamental duty is to evaluate the nutritional needs of individuals and develop personal plans to improve each client's health.
REQUIREMENTS
To enter the second phase of the Dietetics Program, students should meet the following requirements:
Successful completion of the prerequisite courses listed below with a minimum overall GPA of 2.75 & a minimal GPA of 2.25 in the science and FDNT courses.
Continuation in the Dietetics Program requires a student having a cumulative GPA of at least 3.0 at the beginning of thier Junior year.
TRANSFER STUDENTS: Transfer students who enter at the Junior level will be admitted to the Dietetics Program if they have an overall GPA of 3.0, and a minimum GPA of 2.35 for thier science and FDNT courses.
No grade below a C- is accepted and no grade below a C is accepted for FDNT courses.
Submission of application to Dietetics Program which includes:

Statement of Purpose
Two (2) Recommendation Forms
Official transcripts (if transferring from another college)

Review by the Dietetics faculty
COURSES FOR DPD PROGRAM
Prerequisite Courses:
The following courses are prerequisites to enter the Didactic Program in Dietetics, and are usually taken during freshman and sophomore years:
BCHM120 - Introduction to Biological Chemistry
BIOL 111 - Anatomy & Physiology 1
BIOL 112 - Anatomy & Physiology 2
BIOL260 - General Microbiology
CHEM110 - Introduction to Inorganic and Organic Chemistry
FDNT118 - The Profession of Dietetics
FDNT124 - Food Science
FDNT 230 - Nutrition
MKTG 310 - Principles of Marketing
PSYC101 - Intro to Psychology
SOCI119 - Principles of Sociology
Cognate Courses:
The following courses are Cognate Requirements to take during the Didactic Program in Dietetics, and are usually taken during the Junior year:

BSAD355 - Management & Organization
BSAD384 - Human Resource Management
DPD Courses:
The following courses are DPD Requirements to take during the Didactic Program in Dietetics, and are usually taken during the Senior year:

FDNT310 - Nutrition in the Life Cycle
FDNT351 - Food Service Management I
FDNT352 - Food Service Management II
FDNT421 - Community Nutrition I
FDNT422 - Community Nutrition II
FDNT431 - Medical Nutrition Therapy I
FDNT432 - Medical Nutrition Therapy II
FDNT448 - Nutrition & Wellness
FDNT460 - Seminar: Topic
FDNT485 - Nutrition & Metabolism
FDNT490 - Dietetic Program Review
FDNT498 - Research Methods

(click here for full course descriptions)
GRADUATION REQUIREMENTS
Graduation Requirements include satisfactory completion of curriculum requirements with at least 2.25 cumulative GPA in all dietetics courses (no grade below C). Students completing the DPD program and successfully passing the Senior Comprehensive Exam administered in April of final year will be issued a verification statement Students must complete both the coursework (DPD) requirements and a Dietetic Internship before being eligible to sit for the Registration Examination.

OUR ACCREDITATION
The B.S. in Nutrition and Dietetics is a Didactic Program in Dietetics. The Didactic Program in Dietetics (DPD) at Andrews University is currently accredited by:

Accreditation Council for Education in Nutrition and Dietetics (ACEND)
120 South Riverside Plaza, Suite 2000
Chicago, IL 60606-6995
(312)899-5400

Students may also apply for membership into the AND in their junior or senior year. Upon completion of the DPD Program, the student will be issued a DPD verification statement. Once this statement has been issued, the student may apply for a dietetic internship, after which he or she is eligible for registration.

Our current 5 year pass rate for the DPD Program is 80% for students on their first attempt in a calendar year and 88% for testers whithin one year of first attempt.
**The B.S. in Nutrition and Dietetics is a Didactic Program in Dietetics (DPD) accredited by the Accreditation Council for Education in Nutrition and Dietetics (ACEND) .**
FOR MORE INFORMATION PLEASE CONTACT