ESL Students
test your proficiency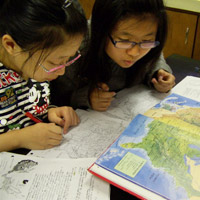 International students planning to study at Andrews Academy for only one year should understand that limited English proficiency will limit the choice of subjects that they will be able to take. Conversely, greater English proficiency widens the students options. All ESL students will take an English proficiency test prior to final placement in classes. The number of ESL classes required will depend on the level of proficiency the student demonstrates. Students will be retested at the end of each semester. Typically, a first year student will enroll in three ESL classes their first semester of high school in the United States. These classes are ESL Language Arts, American Culture, and ESL Introduction to the Bible. Students will then have three or more non-ESL classes they may enroll in, depending on their interests, class availability, grade level, and English proficiency. Students are expected to maintain a full class load. This means that theyh will have passing grades in at least six classes.
International students must maintain a minimum score of 70% in each ESL class. In order to pass out of ESL, the student must acheive an 85% total score. Otherwise, the student will be required to take an additional semester of ESL Language Arts instruction. In addition, they must also maintain a cumulative C average (70%) in all other courses. The teacher may call a meeting with the student, agent, and host family if grades are lower than 70% at each progress report, or as deemed necessary. Students who are accepted on academic probation are required to have an Andrews Academy approved tutor. Minimum time in tutorial per week will be about two hours.
To graduate with a College Preparatory Diploma, non-native English language students must pass one of the standard English language proficiency tests, i.e., the TOEFL (Test of English as a Foreign Language) or MELAB (Michigan English Language Assessment Battery) with a score of 550 on the TOEFL or an 80 on the MELAB. Failure to pass a proficiency test may result in a General Curriculum Diploma. These test results are not required for admission.