German Tour
experience germany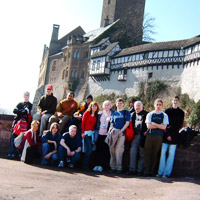 The German/Austria tour of 2007 became a Reformation trip with the emphasis on the writings and achievements of Martin Luther. After visiting the walled city of Rothenburg ob der Tauber, students traveled by train to Eisenach, Wittenberg, Wartburg Castle and numerous additional sites connected with the life and work of Martin Luther.
The trip continued to Berlin, where students witnessed a city reunited after 44 years of division. Another focus of study was the Hitler era. Students received the full impact of Hitler's fascist ideology when they saw the Buchewald concentration camp up close.
Students also visited Vienna where they shopped and visited various architectural monuments. The last few days of the trip were spent on the campus of Seminar Schloss Bogenhofen, making day trips to Salzburg and Burghausen.
This trip gave students more than just a glimpse of two countries, but lasting memories of the true impact history has made.