National Medical Laboratory Professionals Week
Department of Medical & Laboratory Sciences celebrates national week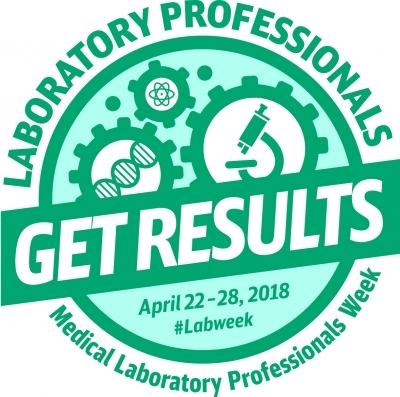 Medical laboratory professionals are key members of today's health care team, and quality medical care depends on them. Every day nurses, physicians and other clinicians rely on laboratory professionals to collect and process samples; perform tests on tissue, blood or other body fluids; interpret and correlate laboratory results with pathophysiological processes; and help provide answers for a complete picture of a patient's health. Without this precise and valuable information, medicine would simply become guesswork.
According to the ASCLS, there are about 300,000 Medical Laboratory Science practitioners in the United States. Considering that approximately 70 percent of the medical decisions originate in clinical laboratory work, these professionals play an increasingly vital role in the diagnosis, treatment and prevention of diseases. Because laboratory medicine is behind the scenes, often their dedicated efforts go unnoticed by the general public and other health care professionals. In today's demands for the delivery of high-quality healthcare, medical laboratory professionals have the opportunity to ensure that the public is well informed about the high standards and professionalism that has always characterized their careers.
The Andrews University accredited program for Medical Laboratory Science has contributed to the field of laboratory medicine by educating Medical Laboratory Scientists since 1989, although the Medical Technologist program began many decades before. The graduates of the Department of Medical Laboratory Sciences minister to others by practicing and promoting standards of excellence and working at world-renowned institutions like the John Hopkins Hospital, Mayo Clinic, Loma Linda University Health and many others. They are lifelong learners and professionals with exceptional skills and are employed as generalist medical laboratory scientists, laboratory medicine specialists, pathology & laboratory medicine administration, clinical researchers, missionaries, educators, physicians, dentists, presidents and CEOs of health care organizations.
Please join us to celebrate the 2018 Medical Laboratory Professionals Week, April 22 to 28. You are invited to participate in any of our special activities and find out more about the contributions of these professionals to health care. For more information, please contact the Department of Medical Laboratory Sciences at 269-471-3336 or email mls@andrews.edu.
Sponsors: Department of Medical Laboratory Sciences

Contact:


Daniel F. Gonzalez


danielg@andrews.edu
269-471-6043