Distinctive Program
Christian Commitment and the Best Students Anywhere
Since our inception in 1985, we have been committed to our vision of "Uniting Christianity with Healthcare Education". Our administrative, admissions, and marketing offices and our entry-level program are located on the main campus of Andrews University in Berrien Springs, Michigan.
All of Our Programs are Fully Accredited by the North-Central Association
In addition, our entry-level DPT program is accredited by the Commission on Accreditation in Physical Therapy Education (CAPTE).
More than 700 students have graduated from these two programs and become valued alumni of Andrews. Our graduates have consistently passed the physical therapy licensure exam and gone on to practice as exemplary clinicians.

While you can receive quality PT education at a lot of schools across the nation, there are three very important features built in to our entry-level program that sets us apart:
1. A Christian Approach to Healthcare
Every aspect of learning and interaction with peers, faculty, and clinicians is integrated with the desire to serve more than just the physical needs of patients. Our Christian philosophy of service and a desire to practice what we preach led us to build in two more features that make us unique:
2. A Non-Competitive Learning Environment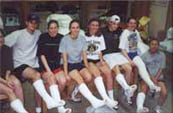 The DPT program at Andrews was created specifically NOT to be competitive. Class members are encouraged to be supportive and help each other succeed. Students are graded only on their own performance and are not affected by any other student's grades.
Most professional programs (medicine, law, etc.) operate under a competitive admissions and grading standard, which means that students who enter programs with a high ranking retain that ranking against other students even if they score lower on exams. While this is common, it is difficult to justify within a Christian context and the spirit of cooperation expected of PT professionals in the clinic after graduation.
3. A Caring, Family-like Atmosphere
At our school the Faculty, staff, and students care about each other. The investment of a considerable amount of time, money, and energy goes into a professional education, but our students know they have a lot of support from their peers and faculty.
Check Out Our...
Entry-Level Programs Post-Professional Programs