Applications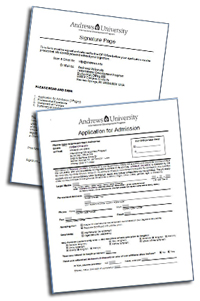 Admission documents for the International Development Program are available as Microsoft Word files. The first is instructions and various forms you will need. The second contains the application for you to fill out and email back to us. Due to virus protection software, Andrews email servers will not accept zipped files so please email to us only the completed application file as an unzipped Microsoft Word document.
If you are unable to download the files from this page or need them in a different format (such as PDF, in hard copy, or by fax), please email idp@andrews.edu and indicate your needs.
Throughout your admissions process, several people will be helping you. Dawn Dulhunty, Director, runs the field sites—you will be receiving messages from her as the time for classes draws near which will help you with your travel plans and arrangements. Dawn can also answer any financial clearance questions. There are also several Admission Counselors in the IDP Office. You may write to them directly with any questions you have about the site you plan to attend.
English:
French (français):
Spanish (español):