Gala Centennial Celebration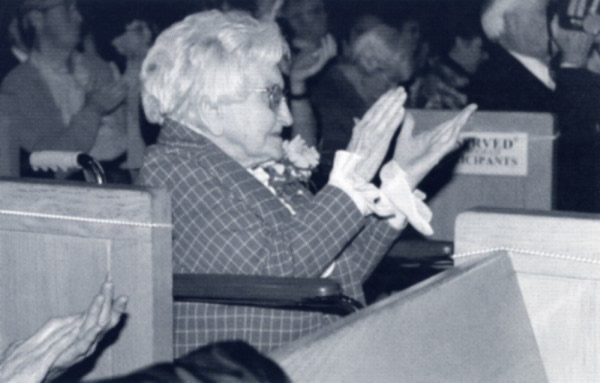 Program

WELCOME
Peter Cooper, Chair
Andrews University Department of Music
MESSAGES OF CONGRATULATIONS
Bill and Margaret Werlinger, Long Prairie, Minnesota
The Honorable Fred Upton,
U.S. Representative from Michigan 6th Congressional District
Chicago Musical College of Roosevelt University, Chicago, Illinois
Northwestern University, Evanston, Illinois
Eastman School of Music, Rochester, New York
Gary Ross, Assistant to the President
Andrews University
TRIBUTES
Paul Hamel, Former Chair
Andrews University Department of Music
Linda Mack
Carlos A. Flores
Former Students of Dr. Owen at Andrews University
BLYTHE OWEN TECHNOLOGY LAB
MUSICAL TRIBUTE
Go, Little Poem, Opus 47 no. 18 Christmas, 1985
Julia Lindsay, soprano
Linda Mack, piano
Processional on an Austrian Hymn, Opus 60 no. 1 1981
Kenneth Logan, organ
Sonata for Violin and Piano, Opus 12 1946
Allegro


Carla Trynchuk, violin
Peter Cooper, piano
Six Variations on the Cowboy Theme "Ol' Texas", Opus 27 no. 1 1959
Carlos A. Flores, piano
An Indian Prayer, Opus 43 no. 3 1970
Soprano I
Soprano II
Alto IAlto II
Julia Lindsay Jeannie Pedersen-Smith Glenice Kaping Wanda Cantrell
Lynn Steen Rebecca Twomley Linda Mack Susan Zork
Nora Clouzet, flute
H. B. Smith, drum


Christmas Eve, Opus 47 no. 14 Christmas, 1980
O Wondrous Night, Opus 47 no. 13 Christmas, 1979
Of the Father's Lover Begotten, Opus 49 no. 3 1977

University Singers
Stephen Zork, conductor
Ana Scarone, piano
Blessed be the God and Father, Opus 23 no. 4 1950
Julia Lindsay, soprano
Linda Mack, piano
Fanfare and Processional for Brass Quartet and Organ, Opus 44 1969
Becky Parke, trumpet
Theron Gilliland, trumpet
Alan Mitchell, trombone
Dewey Murdick, trombone
Kenneth Logan, organ
BLYTHE OWEN ENDOWED SCHOLARSHIP FUND
For All My Friends, Opus 74 no. 4 Christmas, 1988
Congregation
For all my friends at Christmastime I breathe a loving prayer
That you will always be within the circle of His care.
And that these blessed days will bring some hours of sweet release
From outward stress, while honoring anew, the Prince of Peace.
--Alice Hausche Mortenson
# # # #
A reception followed the concert
in the Pioneer Memorial Church Commons.
Home
---
---
Last updated: June 4, 2018
Please send questions or comments concerning this page to: mack@andrews.edu