Andrews Holds Own "Biggest Loser"
Top Headlines
Date:
December 21, 2006
Contact:
pr@andrews.edu
Website:
Phone: 269-471-3322
In grade school, high school, and let's face it, even in adulthood, being termed as a "big loser" is usually something most people want to avoid. But thanks to NBC's hit reality TV show that's turned losing weight and becoming fit into steep competition, thousands across the country are clambering for the title of "Biggest Loser." And thanks to the work of graduate psychology major Sekenah Daye, "Loser mania" has even found its way to the Andrews University campus.
Sekenah has wanted to lose a few pounds ever since coming to Andrews. A "Biggest Loser" fan, she frequently found herself saying, "If I could go on that show, I would lose weight." She figured that, "if I feel this way, others must, too." And then she got an idea -- why not start a weight-loss program on campus?
Sekenah presented her idea to formulate a program designed after "The Biggest Loser" to several people on campus, but it wasn't until she got an internship at the Counseling & Testing Center that things started to fall into place. C&T not only thought Sekenah's plan was a great idea, but they offered to be a sponsor and give Sekenah the opportunity to receive academic credit for organizing it.
Sekenah planned and launched the program for Wellness Week, starting October 15, 2006. Two teams of five students each were chosen for the competition, though one team lost one of its members shortly after the program began. Selection criteria included: be at least thirty pounds overweight, have a doctor's permission, be enrolled as an Andrews student, and be willing to meet all of the program's requirements.
Participants were required to attend the first weigh-in on October 15, compete in three competitions throughout the semester, meet with a personal trainer for one hour each Sunday, as well as attend a weekly group therapy session and work with a nutritionist. Magaly Hernandez of the Nutrition & Wellness Department met with each participant at the beginning of the program to develop individual meal plans, while personal trainer Anna Piskozub met weekly with the group as a whole. Both Hernandez and Piskozub volunteered their time and services.
Dr. Judith Fisher of Counseling and Testing served as the group's "life coach," addressing the psychological aspects of weight loss rather than just the physical side of the issue. "This component has been priceless," Sekenah noted. "It's been amazingly good for them."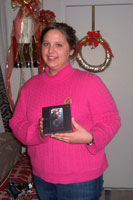 Results were announced at a special final celebration on December 10. Angelika Grozdic, junior communication major, was deemed the "Biggest Loser," with a total loss of 26.75 lbs and 11% body fat. The four-member yellow team took the Biggest Losing Team title, with a total combined weight loss of 53.75 lbs. The final celebration included a healthy and delicious dinner hosted by Patricia Stewart of Student Life. For her great success, Angelika took home a 30G iPod, while her team members each received a home entertainment system that included a DVD player.
Results were determined by both percentage of body fat and average weight loss, as well as faithfulness in attending meetings and workout sessions.
"I never would have expected to have benefited so much from the program in so many different ways," said Angelika. "It was educational - I learned what types of foods to eat, portions, etc. . . It challenged me physically and mentally. My life definitely has changed as a result of this program."
"The winners were well-deserving of their prizes," Sekenah commented. "They worked really hard and pushed on when others gave up!" Sekenah and her assistant, Shelly Scott, have also been quite successful and have each both lost 10 lbs.
In the future, Sekenah would like to extend her idea to include faculty and staff. "This year has been a learning process," she explained. "It's been fun, even though it's been a lot of work."