Andrews Receives Big Grant from NSF
Top Headlines
Date:
September 13, 2006
Contact:
pr@andrews.edu
Website:
Phone: 269-471-3322
The National Science Foundation (NSF) recently awarded a research grant totaling $300,000 to Andrews University and Walla Walla College in College Place, Wash., in collaboration with the University of Arizona. The award, slated to begin September 15, 2006, is to fund a study involving the prediction of animal behavior, specifically that of Glaucous-winged Gulls, on Protection Island National Wildlife Refuge in Washington State. The project is led by two Andrews professors, James Hayward, professor of biology, and Shandelle Henson, professor of mathematics, along with Joe Galusha of Walla Walla College (also an Andrews alum, M.A., '72) and Jim Cushing from the University of Arizona.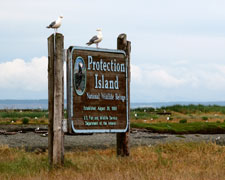 The three-year grant is a renewal of one initially received from the NSF in 2003; however, this is a project that has been in process for more than sixteen years.

"Receiving this grant from the NSF is great for Andrews," Henson comments. "It enables us to buy computers and supplies for the research and to hire lots of students. The research experience for both undergraduates and master's students is wonderful. The grant also gives Andrews a chance to collaborate with other universities."

Each summer, the investigators spend 10-12 weeks on the island, counting the birds and studying their behavior. They are joined by groups of both undergraduate and graduate students from Andrews and Walla Walla, who participate in the research for two-week stints. Undergraduates participating in the summer study receive the Research Experience for Undergraduates fellowship from NSF, as well as the chance to co-author papers that are published in peer-reviewed journals.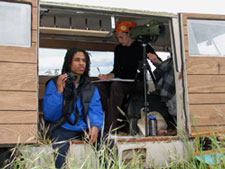 While at the island, which measures only about a mile and a half long by a half mile wide, the research team stays in a cabin, seven miles by boat from the closest town. Working sixteen-hour days beginning at 5:30 am, the students and researchers spend their time at the top of a hundred-foot bluff overlooking thousands of gulls, doing scan counts of sample areas at the top of each hour (a process that takes 20-30 minutes) which track both the number of gulls and their behavior. The goal is to develop mathematical models that will enable the prediction of animal behavior in these habitats.

"I can sit in my office here at Andrews and predict how many birds will be in the colony and the percentage of which will be sleeping at any time next summer, given certain weather conditions," explains Henson.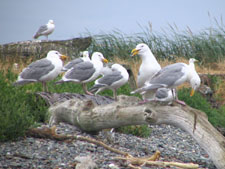 "The individual birds move independently of one another," continues Hayward. "It looks like mass chaos, but it's not. A pattern emerges as you look at the group level."

An understanding of the group dynamics of animals can help prevent some of the conflicts that arise between animal movements and humans, such as collisions between birds and aircraft. It can also be useful in learning about the patterns of animals that may be carriers of diseases such as bird flu.

"In terms of the science itself, we're forging a new field - the mathematical theory of animal behavior," Henson states. "We're breaking new ground, and we're proud of that."