Architecture's Birdhouses Aid Children
Top Headlines
Date:
March 17, 2008
Contact:
ksuarez@andrews.edu
Website:
http://www.andrews.edu/arch
Phone: 269-471-3348
Unique birdhouses designed and handcrafted by Andrews University School of Architecture students, as well as university faculty and community members, will be auctioned off on Sunday, March 30 from 1 to 4 p.m. in the School of Architecture amphitheater on the campus of Andrews University. All funds raised in the auction are for the CERENID Mission Project (Center for the Rehabilitation of Children at Risk of Drug Addiction) in Lajas, Bolivia.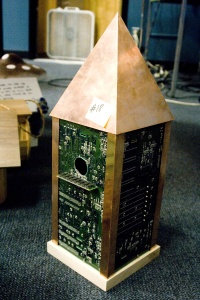 In late summer of 1995, the first group of students went to Bolivia to begin the construction of the first house for the children. Currently, there are 35 children from the ages of five to 12 years old at CERENID where they are overcoming drug-related or social problems. There is a great need for this type of facility in Bolivia, and as finances become available the capacity will be increased to accommodate 80 children.
This year's birdhouses are currently on display in the School of Architecture's Resource Center.

For more information, contact the School of Architecture at 269-471-6003 or visit their website at http://www.andrews.edu/arch.