Cherry Blossoms Bloom
Top Headlines
Date:
April 28, 2008
Contact:
woody@andrews.edu
Website:
Phone: 269-471-3240
On Earth Day, Tuesday, April 22, the Andrews University Campus Arboretum celebrated the occasion under the Sargent Japanese Cherry trees that encompass the Chan Shun Hall parking lot. Rice crackers and treats along with green tea was served to students, staff and faculty who enjoyed the occasion.
Dennis Woodland, chair of the Arboretum Council, says, "It is hoped that this "Sakura (Cherry Blossom) Day" as it is called in Japan, will become an annual celebration when the trees are in bloom."
The event was organized by Grace Carlos, office manager for the Department of Chemistry, and some student helpers.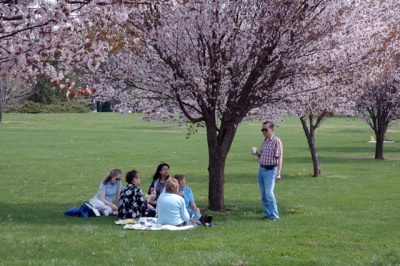 Photo courtesy of Dennis Woodland