Church officials visit Andrews
Top Headlines
Date:
April 10, 2008
Contact:
ksuarez@andrews.edu
Website:
Phone: 269-471-3348
More than 150 administrators of the world church of Seventh-day Adventists visited the Andrews University campus April 4-7 for the 2008 Spring Meeting of the General Conference of Seventh-day Adventists, a semi-annual business meeting. The committee members included officers from the 13 world divisions and administrators from the church headquarters, who together serve the 15 million members of the Adventist Church worldwide.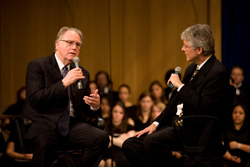 Jan Paulsen, president of the General Conference of Seventh-day Adventists, was interviewed by Dwight K. Nelson, pastor of Pioneer Memorial Church, during services on Sabbath. Paulsen invited members of the community to watch the church business in action and shared one aspect of his work that brings him great personal joy.
Click here for a video of the interview.

"As I relate to the global family—including children, there are some 25 million Adventists around the world—I am amazed at the dynamics which binds this family together," said Paulsen.

Committee members spent four days on campus. During their stay, some were able to meet with members of their division and many guests—some of whom had never before visited Andrews University—took advantage of the many things the campus has to offer, including the Horn Archaeological Museum, the Natural History Museum, and the Center for Adventist Research.