Gymnics Home Show
Top Headlines
Date:
April 8, 2008
Contact:
ksuarez@andrews.edu
Website:
Phone: 269-471-3348
The Andrews University Gymnics team will perform in two upcoming home shows at the Johnson Gym on Saturday, April 12 at 9 pm and Sunday, April 13 at 6:30 pm. The action-packed performances will feature circus acts, power cheerleading, power tumbling, and sports acrobatics.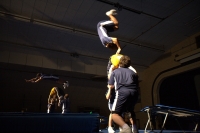 Tickets can be purchased prior to the event at the check-in desk at the Beaty Pool or at the Physical Education desk. Tickets are $3 each.

"I have a passion for Christ-centered sports," says Coach Christian Lighthall of the Gymnics. "Gymnastics is a great way to flex my creative muscle and it's a great way for a group of students to influence others in a positive way through sports in a Christ-focused environment."

The Gymnics team has 27 college students and one high school freshman, each from diverse backgrounds and majors, spanning degree areas of English to pre-med to engineering. Started in 1965, Gymnics is the oldest gymnastics program at a Seventh-day Adventist higher education institution.
View additional links on this story
Fox 28: Gymnastics Team Demonstrate Program
South Bend Tribune: Taking tumbling to new heights: Andrews Academy student says aerial acrobatics no easy feat