Andrews Hosts Adventist Robotics League
Top Headlines
Date:
April 10, 2008
Contact:
ksuarez@andrews.edu
Website:
Phone: 269-471-3348
Forty-two teams of Seventh-day Adventist students from across the Lake Union, including four teams from public schools in Berrien County, explored the fun side of math, physics, engineering and computing at the 5th annual Adventist Robotics League Challenge in Benton Harbor, Mich., on Monday, April 7. Students exercised their teamwork muscles by taking on this year's challenge: Power Puzzle.

Each team, with names like Geek Squad, Robo Giddys, and Positive Power Negative Energy, designed, built and programmed a robot. Judges from the Lake Union Conference, Andrews University, and the community evaluated each team on research, presentation, team work, design and programming, and the success of their robot performing a complex task.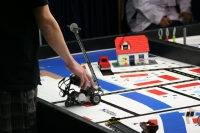 But competition wasn't the main focus: conquering the challenge was.
"We did a practice round with our robot, and now we get a chance to try re-programming it to make it work better in the final round," said Lyndon Bradfield, an eighth-grade student on the Robo Giddys team from Village Adventist Elementary School in Berrien Springs, Mich.
Three teams, Cloud Nine-2 and Fusion, both of Greater Lansing Adventist School, and Green Electrifiers of Holland Adventist Elementary School have been invited to participate in the national challenge of the NAD Adventist Robotics League Invitational on May 12 at the Howard Performing Arts Center on the campus of Andrews University. This event brings the top teams from across the North America Division together.
Bill Wolfer, chair of the engineering and computer science department at Andrews University and director of the Adventist Robotics League, says he hopes to get kids excited about science now, in hopes that they will one day "Use robots to solve problems and build tools to solve other needs."
View additional links on this story
WSBT: Students compete in robotics challenge with eye on greater goal
WNDU: Michiana students get technical at Robotics challenge
South Bend Tribune: Robot parade--Adventist Robotics League Challenge displays students' problem-solving talents