First Colson Endowed Chair Named
Top Headlines
Date:
June 26, 2008
Contact:
ksuarez@andrews.edu
Website:
Phone: 269-471-3348
After a hiatus of nearly 20 years, Bruce Wrenn will return as a professor of marketing in the School of Business Administration starting July 1. His return marks the initiation of the first Colson Endowed Chair of Marketing, an endowment made possible by a large donation from Bonnie and the late William Colson.
Wrenn first came to Andrews University in 1978 where he taught in the School of Business Administration until 1989. He then spent a year teaching at Northwestern University in Evanston, Ill., before returning to Michiana as a professor of marketing at Indiana University South Bend.
Wrenn's return to Andrews marks the completion of a goal set by the Colson family, who live in the Pacific northwest, when they gave the largest single personal donation in Andrews University history in 2007. William Colson gave instructions for part of the donation to be set aside for endowed chairs in the School of Business Administration with annual interest paid to the chairs in addition to a full professor salary. The endowment also provides the chair with extra funds to travel and hold seminars as well as a book and equipment account.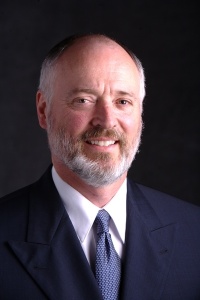 "Andrews University seeks to attract and retain a committed, high-quality faculty of teacher-scholars who impact and inspire students," says senior development officer Chris LeBrun. "Endowed chairs help energize those faculty who have demonstrated best practices in teaching and research."
"It is very humbling to have been blessed as the first recipient of the Colson endowed chair of marketing. I am indebted to the Colson family for their generous endowment that makes it possible for me to serve the university and its constituents in this capacity. I hope to honor that choice by advancing my scholarship into the use of marketing practice by religious organizations and by teaching marketing courses in my areas of expertise. Andrews' School of Business Administration has a well-deserved reputation as a center for excellence in business education and I'm honored to once again be part of that tradition," says Wrenn.
Wrenn brings a wealth of educational and real-world experience to Andrews. He holds a BS in business administration from Auburn University and a Master of Management degree from J.L. Kellogg Graduate School of Management at Northwestern University in Chicago where he studied under Philip Kotler, one of the most influential thinkers in the world of marketing. Wrenn later earned his PhD in marketing from Northwestern University.
From 1989–2008, Wrenn taught as a professor of marketing at Indiana University South Bend. During his time at IUSB, Wrenn published numerous scholarly articles and made many academic presentations. He received the IUSB School of Business Excellence in Research Award each year since it was initiated in 1998, through 2007.
Throughout his teaching career, Wrenn has also taken on a number of consulting clients, both corporate and private, including Biomet, Inc. of Warsaw, Ind., the South Bend/Mishawaka Convention and Visitor's Bureau, and Adventist Health Systems.
Wrenn currently serves or has served on a number of professional journal boards including the Journal of Business Research and the Journal of Ministry Marketing and Management, among others. Often a professional resource for media, Wrenn has been interviewed and/or quoted by a number of regional and national media including WNDU-TV, Baltimore Sun, Talk of the Nation and Christian Management Review.
"Dr. Wrenn's extensive teaching and research in the field of marketing, with particular emphasis in the field of not-for-profit marketing, will be invaluable to our business students and seminary students alike," says Allen Stembridge, dean of the School of Business Administration.