Former NBC Producer Teaching at Andrews
Top Headlines
Date:
August 20, 2008
Contact:
ksuarez@andrews.edu
Website:
Phone: 269-471-3348
On the frontlines of some of the biggest news stories of the decade including the capture of Saddam Hussein and the D.C. sniper shootings, Debbie Michel, is taking the knowledge of media and communications that she acquired working as a news producer for Dateline NBC and applying it to the classroom for students at Andrews University. Michel, a new associate professor of communication, will begin teaching journalism courses this fall semester.

Born in Kingston, Jamaica, Michel migrated to the United States in 1985. Her parents are both retired from their civil servant jobs; her dad was an electrical engineer with the New York City Transit Authority and her mom was an assistant librarian with the Brooklyn Public Library. Michel is joining a family tradition of higher education: her two sisters are also college professors and teach English in New York City colleges.

Debbie Michel earned her B.S. in journalism at Brooklyn College at the City University of New York. She then continued her studies in journalism at the master's level with an emphasis in broadcast communication at Columbia University.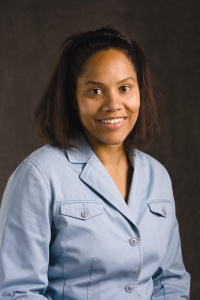 Michel comes to Andrews University from New York City where she worked in a top-tier news market. Starting in 1995, Michel began what would become an eleven-year tenure at NBC, working for NBC News, Nightly News with Tom Brokaw, Dateline NBC and NBC Productions, where she produced documentaries and news segments for a client list that ranged from Discovery Channel to National Geographic to Good Housekeeping magazine.

Michel received an Emmy nomination for her role as co-producer of Dateline's 'Saddam Hussein's Capture'; a National Headliner Award for Dateline's coverage of the Washington D.C. sniper story; and the NBC 'Ovation Award' for "Above and Beyond Effort" on the sniper story.

Following the birth of her daughter, Christiana, in 2004, Debbie and her husband, Jean-Ires, decided it was a time for a change. After spending a period of time focused on motherhood, Michel was approached by Andrews University to consider teaching. "I came here and saw the media ministry: that got me excited. I was excited about the prospect of teaching students journalism in a Christian environment. God said to me, 'This is where I want you to be.'"

Michel's husband, Jean-Ires, worked as a school teacher in New York City, but is now studying photography and digital media at Andrews University.