Got Milk? Andrews Does
Top Headlines
Date:
September 23, 2008
Author:
Keri Suarez ksuarez@andrews.edu
Dairy Phone: 269-471-3224
One hundred and one years after their first cow was milked, the Andrews University Farm and Dairy celebrated the grand opening of a new milking parlor and Visitor's Center on Friday, Sept. 26, 2008. Farm-fresh refreshments were served—including cheese made from the milk of Andrews University cows—to a standing-room-only crowd at the dedication ceremony. Visitors were also treated to behind-the-scenes tours of the new milking parlor and barns.

During the dedication ceremony in the new Visitor's Center, Katherine Koudele, professor of animal science, gave a historical overview of the farm and dairy with a look toward its future as well. "The visitor center that you see will serve as the education center for the community groups that request tours here," said Koudele.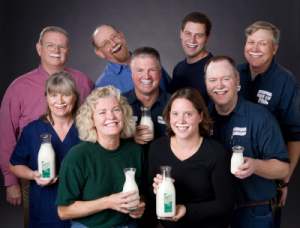 Thomas Chittick, chair of the Department of Agriculture, thanked the many individuals who made the project possible. "It begins with administrators, people that support what we're doing here, and are happy to see farming and agriculture continue on this campus."
Niels-Erik Andreasen, president of Andrews University, acknowledged the importance of the farm and dairy not only to Andrews University, but to under-developed countries around the world. "This farm is the source of work and experience for our students in the past. It's a university farm and it's a good one, and it helps the university reach out around the world and support people in need."

The new milking parlor was made possible by a portion of an $8.5 million gift to Andrews University in March 2007. The now-deceased donor's generosity was recalled by David Faehner, vice president for University Advancement. "I asked him why he gave those amounts. He said, "I like that little school back in Michigan. It's a special place…The last time I talked to him again I asked, 'Why were you so generous to us?' He said, 'God has given me so much. How can I refuse to give back to others?'"

Kenneth Nobis, president of the board for Michigan Milk Producers Association Cooperative, congratulated Andrews University on their successful commercial operation, award-winning herd and service-oriented staff, faculty and students. "What you're doing here is training more and more people to have a concept of what agriculture is really all about and that is very commendable. Andrews University…you've done a great job. You've got a great facility here!"

Dave Nelson, who worked at the dairy as a college student in 1966, joined in the celebration. He remembers the day the first milking parlor was opened. Back then, says Nelson, "We could only milk a few cows at a time."

How times have changed. The new facility allows the simultaneous milking of 40 cows three times each day and reduces the time by two-thirds. The milking machines have automatic take-off devices that sense when the milk flow has dropped low enough to remove the machine and stop milking that cow. The milking parlor has two 6,500-gallon bulk milk tanks, one of which is filled at every milking. Three milkings a day, 356 days a year resulted in the shipping of more than 2.4 million gallons of milk in 2007. The milk produced at the dairy is marketed by the Michigan Milk Producers Association Cooperative (MMPA). Some of it is used, locally, to make cheese at Old Europe Cheese Inc. in Benton Harbor, Mich.

The Andrews University Farm and Dairy takes pride in its educational, research-focused facility offering students hands-on experience at a commercial operation. The herd, comprised of approximately 1,250 cows, is housed at both Andrews University and Indiana Academy in Cicero, Ind. Young heifers are sent to Indiana Academy at four months old and return to Andrews to join the milking herd at 22 months.

The Andrews University Farm and Dairy also provides hands-on opportunities for students studying in any of the five degrees offered by the Andrews University Department of Agriculture, including animal science and dairy herd management. A memorandum of understanding with the Zaoksky Adventist University (ZAU) in Russia is in development. It would allow agriculture students from ZAU to transfer to Andrews to complete their degree.
The department prides itself on preparing "agricultural specialists" for service in underdeveloped countries and technical support for specific projects, include providing support to grow vegetables and eggs for use at a center dedicated to assisting orphans in Swaziland.