Gustav Volunteers Return From Trip
Top Headlines
Date:
September 11, 2008
Contact:
ksuarez@andrews.edu
Website:
Phone: 269-471-3348
When Andrews University students awoke last Thursday morning, Sept. 4, few had any clue that by the end of the day they would be on a bus headed for Louisiana's Hurricane Gustav affected region. But after a flurry of activity, last-minute planning and packing, shortly after 7 p.m., 42 students, staff and faculty were on a bus headed south.
On Wednesday morning, Sept. 3, Jeff Boyd, director of WeCare Missions, was asked to organize and lead a mission trip to the region damaged by Hurricane Gustav. A whirlwind of planning ensued and by Wednesday evening, a plan was in place. Announcements were made in the residence halls about this last-minute outreach opportunity and the next morning at chapel, there was a final call for volunteers. But time—and funds—were scarce.
Keri Self, office coordinator for Campus Ministries, was on the front lines for trip registration. "After chapel, I didn't even have time to get back to Campus Ministries before the line started forming. And I wasn't walking slow!"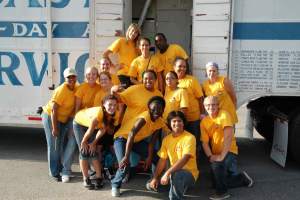 Rearranging work schedules and checking in with professors took top priority, not to mention packing for the trip. Latoya Wolfe, a graduate student, had particularly busy weekend plans that required last-minute cancellation: speaking for Fusion, the ministry fair, standing up as a bridesmaid in a friend's wedding and helping to organize another friend's wedding reception. "As a Christian, sometimes God calls for us to drop everything and follow him," says Wolfe. "I know I'll never be the same [after the trip]. I'm still processing it."
One student had the desire to serve but lacked the financial means to cover the cost of the trip. "He called a few times to see if anyone had offered to sponsor students. I put him on a waiting list," says Self. "That afternoon, he showed up with his bag packed and a sleeping bag—he was ready to go even if the funds weren't in place yet." In what can only be described as an answer to prayer, when people started boarding the busses, the student learned a sponsor donated funds and he was able to go.
At the end of an already long day, with heavy rain falling and a police escort leading the way, the group departed from the Pioneer Memorial Church parking lot. Excited conversation ensued as new friendships were forged. Sleep, for many, came much later. Minus a few stops to eat and stretch, the bus drove for 19 hours straight before arriving at 2:30 p.m., Friday afternoon, at the Adventist Convention Center in Hammond, La.
Representatives from Louisiana Adventist Community Services (ACS) were on location as well as the Michigan Conference Adventist Disaster Response Communication Team and trailer.
The group quickly went to work settling into their temporary warehouse-style lodging. Bunk beds had to be assembled, the kitchen readied for use and the generator fueled up. The center had limited electricity. Hot water was an absent luxury: showers were chilly and short. Meanwhile, a team of five headed to the Seventh-day Adventist church near Baton Rouge to clean up debris.
On Sabbath morning, the volunteers were eager to be of service to those in need. Three trucks full of blankets and cleaning supplies were unloaded, while elsewhere the work of assembling 100 clean-up kits was underway. Three chainsaw teams headed out into the community to clear debris from yards.
"One elderly lady who had lost her husband this year was especially thankful for the help. She said no one had helped her before," recalled Boyd.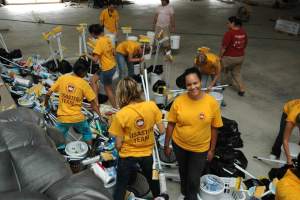 Later that day, comfort kit and clothing distribution was the main focus. Between two shelters, more than 900 individuals were served. "I was talking to a group of survivors at the distribution site. I mentioned the students were living in much the same conditions as they were: electricity was out, generator providing lights and no hot water. They were amazed the students were willing to come to help and live in the same conditions they found themselves in," said Joe Watts, ACS disaster relief director. "It reminded me of Christ. Christ was willing to come into this world and live in the same conditions as the ones He came to help."
The trip was about more than helping others in need: it was also a time to connect with each other and Christ. Sabbath evening the group worshipped and shared together. They told of God's work in their lives; of coming to Andrews University; of their shared desire for coming on the trip, and of their journey toward spiritual growth. Some did all four. "It was a very positive and meaningful time," said Boyd.
One student revealed he had three specific prayer requests answered, which enabled him to come on the trip: a friend paid his registration fee, a professor rescheduled a test and the last person on the work-sub call list was willing to cover his final work assignment.
With fulfilled hearts following a full day, the group got some much-needed rest. The following morning, clean-up kits were distributed, more debris was cleared and the convention center was cleaned and readied for the team's departure. The bus departed Sunday afternoon at 2 p.m. and arrived back to campus at 5:30 a.m. Monday morning.
"The Gustav trip was really eye-opening: to see how people can be so thankful for something as simple as a change of clothes," says Bradley Austin, junior photography major. "This was a Christian journey of action. We were Christ's disciples, involved in hands-on ministry."