Grammy Winners in Concert
Top Headlines
Date:
October 20, 2008
Contact:
hpac@andrews.edu
Website:
http://howard.andrews.edu/
Phone: 269-471-3560
Grammy Award winners, the Assad Brothers and the Turtle Island Quartet, will join together in music on Sunday, Oct. 26, 2008, at 7 p.m. in the Howard Performing Arts Center at Andrews University in Berrien Springs, Mich. The innovation and expression of the Assad Brothers will be blended together with the zest and brilliant technique of the Turtle Island Quartet for an evening sure to delight your ears.

Classical guitarists Sergio and Odair Assad, professionally known as the Assad Brothers, are Brazilian born siblings who bring their guitar ingenuity together with the rich musical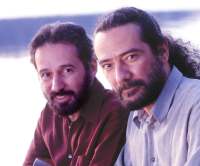 tradition of Brazil. Since a young age, they have studied with the best guitarists in South America and much of the original music the brothers perform was composed by Sergio Assad. Their sound also includes reworked folk, jazz and Latin music.

The Assad Brothers are recognized as prolific recording artists for Nonesuch and GHE labels. In September 2002, they won a Latin Grammy Award for "Sergio and Odair Assad Play Piazzolla." They have other recordings with several other artists including Yo Yo Ma, a 1998 Grammy Award winner.

The Turtle Island Quartet was born in 1985 a result of violinist David Balakrishnan's brainstorming and original compositions. Turtle Island Quartet has a sound like no other, including folk, bluegrass, swing, be-bop, funk, R&B, new age, rock and hip-hop, as well as culturally influenced music from Latin America and India.

The two-time Grammy Award winning group has been on soundtracks for major motion pictures, television and radio credits, including Today Show, All Things Considered, Prairie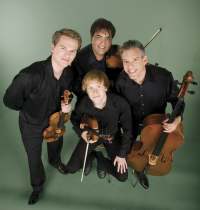 Home Companion and Morning Edition. They have been featured in articles appearing in People and Newsweek magazines. Manhattan Transfer, clarinetist Paquito D'Rivera and the Ying Quartet are a few other musicians who have collaborated with Turtle Island Quartet.

Tickets for the Assad Brothers and Turtle Island Quartet concert can be purchased by calling the Howard Performing Arts Center box office at 269-471-3560. General admission tickets are $35 and Andrews University students are $10. Special rates apply for groups and Flex Series tickets.
-Written by Keri Suarez, media relations specialist, Office of Integrated Marketing & Communication