Students Campaign in Benton Harbor
Top Headlines
Date:
October 16, 2008
Contact:
ksuarez@andrews.edu
Website:
Phone: 269-471-3348
On Thursday, Oct. 9, members of Andrews University Students for Barack Obama attended a grassroots rally at the Democratic Party campaign headquarters on Main Street in Benton Harbor, Mich. The highlight of the event was a speech by Forest Whittaker, an Academy Award winning actor and an outspoken Obama supporter.
Whittaker urged the audience to make a difference in the election by getting people to the polls on Nov. 4. "Everyone talks about Barack…but what we need to be talking about, too, is you," Whittaker said. "The power really is about you being able to change your futures. You can do that by voting. You can do that by canvassing. You can do that by calling."
Whittaker met with a group of Andrews University students after his speech and commended them for their involvement in the campaign. "I should be talking pictures of you, instead of you taking pictures of me," he said.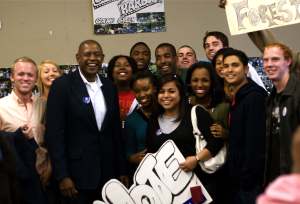 "It was really gracious of Forest Whittaker to spend time talking with Andrews University students," said Andrew Gerard, a senior anthropology major who is interning for the Obama campaign in Benton Harbor.
Following the rally, 15 Andrews University students set out on foot into the Benton Harbor community with clipboards and demographic lists, going door-to-door gathering statistical information and encouraging voter registration.
"I was really glad we were able to get a good group of energetic students into the community to help Obama get elected," said Gerard.
"It's great to get involved in the political system at the local level," said Edwin Hernandez, men's dormitory leader of Andrews Students for Obama. "At one door I knocked on, a man asked me if I wanted to come into his living room and talk about Obama. People are really responding to him as a candidate and it's exciting to see how much they care about this election."
-Written by Robert Moncrieff, student news writer, Office of Integrated Marketing & Communication