Chilson to Retire in August, 2009
Top Headlines
Date:
November 13, 2008
Contact:
ksuarez@andrews.edu
Website:
Phone: 269-471-3348
After 27 years of service to the Andrews University campus as director of Dining Services, Bennett Chilson has announced his intention to retire August 2009.
"He efficiently operated Dining Services while the aging facility created untold challenges for him and his staff. He has now had the pleasure and great joy, as well as the challenge, of moving Dining Services into the beautiful new facility. It is a dream of his career that has now been realized, creating an excellent ending to a significant tenure. We're grateful for Ben's service and wish him and Sandy all the best in their retirement," says Larry Schalk, vice president for Financial Administration.
"Sandy and I will remain in the area, and I am looking forward to being able to spend more time with her doing many of the things we have planned for our retirement," commented Chilson. "It has been an honor and a privilege to serve our students, staff and guests these many years. I am thrilled with the beautiful new facilities the university is able to enjoy and it opens many possibilities for meeting the ever-changing needs of our clientele. I cherish the Andrews students, friends and co-workers I have had the opportunity of knowing and working with over the years."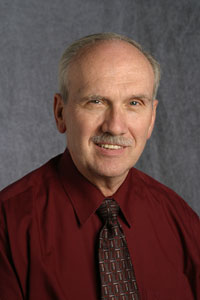 Known to the Andrews University family for his warm, efficient, can-do management style, Chilson is a respected, well-loved member of the campus community and will be greatly missed.
Schalk also wishes to inform the campus Melinda (Minde) Smith, current owner/ operator of Caitlan's Catering in Berrien Springs, Mich., has been hired as associate director of Dining Services, effective Jan. 5, 2009. Smith will become the director upon Chilson's retirement.
According to Schalk, "Melinda has always offered tasteful, quality catering as an outside vendor and we're delighted we've hired the competition. Her creativity and professional skills are the natural next step in enhancing the dining experience in our newly-renovated facility."
"I am looking forward to working with Mr. Chilson during this transition time," says Smith. "Most of all, I'm looking forward to becoming a 'mom' to 3,000 college kids and providing some exciting food experiences in the very near future. The new Dining Services was designed to provide new opportunities for food preparation and delivery. I'm thrilled to have the chance to build on what has been accomplished to date. My mind has been swirling with ideas for this new venture. I know there are big shoes to fill, but we can take our Dining Services from good to great!"
Smith is married to Martin Smith, assistant professor of architecture. They have three children: Elizabeth, a physical therapy major at Andrews; Charles, a sophomore studying landscape design at Andrews; and Sarah, a senior at Andrews Academy.
Smith studied business at Andrews University from 1978–81 and worked for three years in office management. In 1984 she started Caitlan's Catering in the basement of their home. The business moved to its current location in 2005 and will continue to operate there.