Kalamazoo Symphony Orchestra in Concert
Top Headlines
Date:
January 6, 2009
Contact:
hpac@andrews.edu
Website:
Phone: 269-471-3560
Michigan's third largest professional orchestra, the Kalamazoo Symphony Orchestra, will make a tour stop at the Howard Performing Arts Center on Sunday, January 18, 2009 at 3:00 p.m.

This season concert goers can look forward to the Symphonic Series concerts at Miller Auditorium, as well as Epic Evenings with the Burdick-Thorne String Quartet, and more. Their Howard Center performance will feature the world premiere of Kenji Bunch's piece commemorating the 200th anniversary of Abraham Lincoln's birth, Ives' Symphony No.3, Mendelssohn's Violin Concerto and Sibelius' Symphony No. 5. The Kalamazoo Symphony Orchestra stays busy each season with excess of 40 concerts, performing for over 100,000 people throughout Southwest Michigan. They also make appearances for educational and community engagements.

Raymond Harvey, the Kalamazoo Symphony Orchestra's music director since 1999, is an excellent pianist and accomplished choral conductor. He has been the music director of the Fresno Philharmonic, the Springfield Symphony and associate conductor of the Buffalo Philharmonic. Harvey holds his bachelors and masters degrees from Oberlin Conservatory of Music and a Doctor of Musical Arts from Yale School of Music.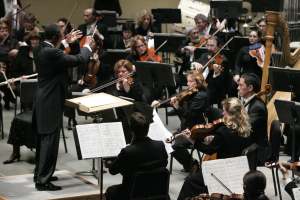 The appointment of Raymond Harvey as music director marked the beginning of a new era for the Kalamazoo Symphony Orchestra. The subscription series at Miller Auditorium, annual holiday presentations, chamber orchestra concerts, free summer park concerts and numerous educational programs provide the core of Kalamazoo's musical life. Symphony musicians teach privately, in local schools, at Western Michigan University and at Kalamazoo College, perform in chamber groups, at church services and in other orchestras around the region.

Tickets for Kalamazoo Symphony Orchestra can be purchased by calling the Box Office at 269-471-3560. General admission tickets are $20; Andrews University faculty and staff members $5; and tickets for all students are free. Special rates apply for groups and Flex Series.