Tuned into Discovering God's Love
Top Headlines
Date:
March 3, 2009
Contact:
cmradio@andrews.edu
Website:
www.andrews.edu/go/cmradio.
Phone: 269-471-3151
"I want to give the Lord Jesus thanks for your radio program," wrote Keisha, who listens to CMRadio. "This evening's program and the exhortation have touched my heart. It almost seems as if I was expressing these same words."

Keisha is just one of many listeners worldwide who regularly tune into CMRadio, an Internet radio station hosted by Andrews University's Office of Campus Ministries, for inspiration and Christian music.

First known as Adventist Youth Radio (AYRadio), based out of the Center for Youth Evangelism, in Berrien Springs, Mich., it took hard work, intuition and a lot of brainstorming to transform it into CMRadio. Since it first took to the Internet, CMRadio has been an inspiration to listeners' campus-wide and across the globe: from its backyard in Berrien Springs to the outback of Australia, the east coast to the west coast, and the islands of the Caribbean to countries all across Europe.

Christian music is a mainstay of the station's ministry, but it has recently branched out into inspirational programming. During the 2007−08 school year, Andrew Campbell, a University student and faithful listener, approached CMRadio station manager, Richard Parke, with an idea to create a new show.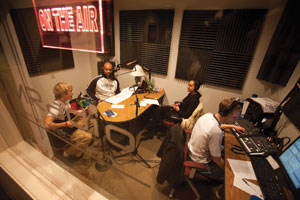 "I had been involved with radio before and I wanted to be able to work with a radio station that shared my passion to reach out to young people," says Campbell. "As I shared my ideas for a radio show that would share different aspects of God's love to a primarily Gen X and Gen Y audience, we saw that we both had a very similar passion for ministry to this target audience." This marked the beginning of "Discovering God's Love," a ministry that considers different aspects of God's love through praise and worship music and soul-enriching discussions. Guest speakers and musicians often join Campbell to share their own stories of God's affection.

"The primary goal of the show is to give listeners a glimpse at the wonders of God's never-ending love for us, and also to hopefully bring them to the conviction that there is a God who loves them, and that whatever situation they may find themselves in, there is a God who cares and wants to bring them happiness, joy and peace," says Campbell.

CMRadio's success is evident from the faithful listeners who tune in around the world. "CMRadio has been a blessing to my life," writes Tito Lopez, a listener from Santa Barbara, Calif. "Thanks for your hard work and the commitment you have made to keep this radio station and radio programming up and running. Thanks, and God bless you."

To tune in, visit www.andrews.edu/go/cmradio. Tune into "Discovering God's Love" every Friday at 6:30 p.m. EST.
-Written by Ashleigh Jardine, student news writer, Office of Integrated Marketing & Communication