130th Graduating Class
Top Headlines
Date:
May 7, 2009
Contact:
pr@andrews.edu
Website:
Phone:
Friends, family, faculty and staff attended graduation ceremonies May 1–3, 2009, as the 130th graduating class took their place among the nearly 37,000 alumni of Andrews University. On that day, 227 undergraduate and 150 graduate students received their diplomas on the main Andrews University campus.

Friday evening, Verlyn Benson, dean of the College of Technology, delivered a thought-provoking address, "Life Isn't Fair. Oh Wait, Yes It Is!" for Consecration. Don Livesay, president of the Lake Union Conference of Seventh-day Adventists, offered graduates a glimpse at the years ahead during the Baccalaureate service with his sermon, "In the Center of a Tight Spot." A Sabbath Vespers tribute to parents, faculty and students at Pioneer Memorial Church was followed by the President's Reception for graduates and their families in the lobby of the Howard Performing Arts Center.

Sunday morning, graduates were greeted by a colorful array of international flags against a clear blue sky as they marched into Pioneer Memorial Church to receive their degrees. As the dean of each school/college announced the candidates, graduates walked across the stage to receive their degree from President Niels-Erik Andreasen. Andre Weston, BA, English/writing, cum laude, testified that the president's grip was still surprisingly firm even after shaking the hands of hundreds of graduates.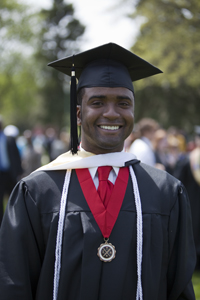 Esther Diaz, former dean of the Cuban Adventist Seminary in Havana, Cuba, was the keynote speaker for graduate commencement. For her leadership in overcoming the prejudices and stereotypes concerning women in ministry, the faculty of Andrews University chose to honor Diaz with an honorary Doctor of Divinity.

Lawrence Geraty, president emeritus and professor of archaeology at La Sierra University in California, was the keynote speaker for the undergraduate commencement ceremony. Because of his dedication to higher education, research and cultural diversity, Andrews University chose to honor Geraty with an honorary Doctor of Humane Letters.

During commencement, the J.N. Andrews Medallion, an award recognizing significant achievement in the advancement of knowledge and education by Seventh-day Adventist teachers, scholars and writers, was presented to Shandelle M. Henson, professor of mathematics in the College of Arts & Sciences, and Jane Thayer, associate professor of religious education, emeriti, in the Seventh-day Adventist Theological Seminary.
Shandelle M. Henson was recognized for her contributions to the field of mathematical biology and concern for the environment. Before coming to Andrews in 2001, she held different positions in mathematics departments at the University of Arizona, the College of William & Mary and Central Michigan University. She is a prolific researcher whose work has appeared in publications such as The Journal of Morphology, Mathematical Biosciences and Engineering, Animal Behavior, and The Journal of Animal Ecology, among others, as well as news sources. Active in her discipline, Henson has also attracted numerous research grants and organized various conferences and workshops. She has received numerous awards and recognitions for her work and is a member of several prestigious societies that advocate her interest and concern for the environment.
Jane Thayer was recognized for her abiding concern for the spiritual growth of University students. Her professional career as an English teacher began from 1962–1971 at Campion Academy in Colorado, College View Academy in Nebraska, and at Union College, also in Nebraska. She later pursued freelance writing and taught contract English courses at Atlantic Union College in Massachusetts. From 1985–1992, Thayer served as both associate director and director of University Relations at Andrews University. During this time, she modeled a high standard of productivity and fostered a corresponding commitment in her staff. When she became the assistant professor and coordinator of the religious education program in 2000, Thayer began planning many in-service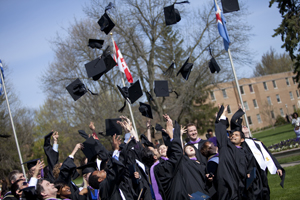 presentations about methods of assessment. Always interested in evaluating religious and spiritual outcomes, she created the assessment newsletter and helped to write the initial annual assessment reports for the university. She has also presented "how-to" papers on fostering student spiritual development to Andrews University, the Seventh-day Adventist Church, and the Coalition for Christian Colleges and Universities, among other institutions.
Esther Diaz was recognized particularly for her service at the Cuban Adventist Seminary, where she served as dean for eight years, and her efforts on behalf of women's issues in the Seventh-day Adventist Church. During her tenure as dean, she created curricula, strengthened academic and library resources, and improved the school's financial base. She also served as the Seminary's school chaplain, college professor and coordinator for women's ministries. In 2005, Diaz received the Woman-of-the-Year Award from the Association of Adventist Women to recognize her labor on behalf of women in the Church.
Lawrence T. Geraty was honored specifically for his lifelong commitment to improving the quality of higher education and his respect for diverse cultures. President emeritus and professor of archaeology at La Sierra University, Geraty is currently appointed to the California Postsecondary Education Commission to promote the interests of higher education in the state. His leadership skills often reflect an international perspective, likely due to his childhood in China, Hong Kong, Burma and Lebanon. Geraty served as a faculty member in the Andrews University Seventh-day Adventist Theological Seminary from 1966–1985, where he directed archaeological expeditions in the Middle East, taught in different countries around the world, served as the curator of the Horn Archaeological Museum and became the founding director of the Institute of Archaeology. He has published nearly 50 scholarly articles, edited eight books, contributed to over 30 books and is the recipient of numerous academic and research awards.