RMES Teacher Awarded for Creativity
Top Headlines
Date:
May 7, 2009
Contact:
pr@andrews.edu
Website:
Phone:
With a balloon bouquet in hand and a cameraman in tow, 16 Morning News' Tricia Sloma entered the library at Ruth Murdoch Elementary School to present a 16 Excellence in Education Award to Laura Bowlby, the fourth grade teacher. A very surprised Ms. Bowlby was in the school library with her students, including Bayley Schalk, the student who nominated her.

"Ms. Bowlby is very creative. She has taught our whole class how to knit (boys and girls) and she lets us knit after we finish our work. She also has lots of creative field trips for us to go on. We went bowling to learn about friction and to the grocery store to learn about nutrition. We learned about caring for animals at the Humane Society and she taught us about directions with a compass journey around the campus of Andrews University. Ms. Bowlby's creativity makes her special," read Bayley's nomination letter.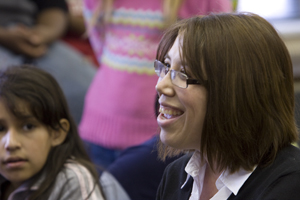 Bayley's mother, Brenda, saw the call for 16 Excellence in Education Award entries and encouraged her daughter to nominate her teacher. "Ms. Bowlby reminds me of Ms. Frizzle from The Magic School Bus (a children's cartoon). She's a very creative teacher," said Brenda.

Sloma asked Bowlby how it felt to receive this award. "It's very overwhelming and very special," she said. "I think Bayley is a remarkable girl."

Bowlby received a $1,000 savings bond from Notre Dame Federal Credit Union and Ruth Murdoch Elementary School will receive a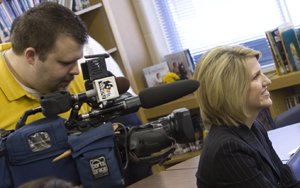 check for $250. Her story will air next week during the 6 a.m. hour of 16 Morning News.
-Written by Keri Suarez, media relations specialist, Office of Integrated Marketing & Communication