Andrews Highlighted at Soy Conference
Top Headlines
Date:
July 6, 2009
Contact:
Website:
Phone: 269-471-3161
Melinda Smith, associate director of Andrews University Dining Services and president of Berrien Springs-based Caitlan's Catering, provided the lunch menu at the International Soybean Program (INTSOY) Course on Processing and Marketing of Soybeans, held at the National Soybean Research Laboratory (NRSL), University of Illinois–Urbana, on June 1, 2009.
Smith's company, Caitlan's Catering, had been working with the company Microsoy in developing soy products. "It was interesting that I was introduced in Illinois as the president of Caitlan's Catering and associate director of Dining Services at Andrews University–an all-vegetarian campus. That took the meeting by storm and Caitlan's quickly became a second stringer," says Smith.
This program was attended by more than 100 research personnel and technical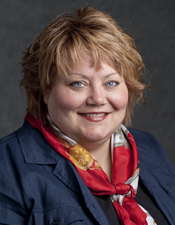 representatives from around the world, including Argentina, Bolivia, Israel and Pakistan. Smith says several of the international participants became interested in partnering with Andrews University as a research test market for their soy products. She was also approached by universities who wished to send their graduate students to Andrews University to observe and study it as an all-vegetarian campus.
Smith's menu included "crabmeat" Rangoon, black bean soy sliders, tofu potato salad, lentil tofu curry and tofu cheesecake to name a few. The menu was well-received and Smith plans to involve Andrews University in future research and development of soy-based vegetarian food items with INTSOY and the NSRL.
The National Soybean Research Laboratory is located at the University of Illinois and promotes soybean research, education and outreach in the areas of production, nutrition and international development. INTSOY is recognized as an international center of excellence in soybean research. The intensive conference was designed to promote private sector expansion of soybean foods in the international market.
-Written by Keri Suarez, media relations specialist, Office of Integrated Marketing & Communication