"Classic Pat" Tribute Concert
Top Headlines
Date:
September 30, 2009
Contact:
pr@andrews.edu
Website:
Phone:
For her 40 years of service to Andrews University and the community, a retirement tribute concert was held for Patricia Mutch on Sunday, Oct. 4, 2009, in the Howard Performing Arts Center on the campus of Andrews University. The program was aptly titled, "Classic Pat."

Friends, colleagues, guest artists and University musical talent, including former faculty member Peter Cooper and the Andrews University Sinfonietta, honored her contribution to the campus and community. She was joined by her husband, Bill Mutch, professor of chemistry, who also recently retired after 40 years of service to Andrews University.

As a special tribute to both her love of birding and tireless dedication to Andrews University, Mutch was given a stained glass window featuring two cardinals as a retirement gift. The cardinal is the Andrews' mascot.

During her career Mutch served as commissioner of the Michigan State-wide Nutrition Commission and vice-chair of the Governor's Food and Nutrition Advisory Commission. She helped guide the Michigan Dietetic Association to a level of national recognition. In recent years she has devoted time to the local community through work with the Southwest Michigan Race Relations Council and with Berrien County leaders in developing University classes in emergency preparedness and planning.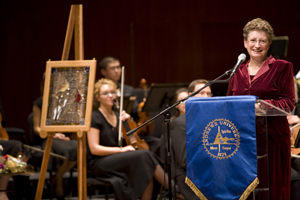 Mutch joined the Andrew University faculty in 1972 as a professor. Since then, she has served as director of the coordinated undergraduate program in dietetics, director of the Office of Scholarly Research, director of the Institute of Prevention of Addictions, dean of the College of Arts & Sciences and vice president for Academic Administration.
In the last three years Mutch returned to the classroom; worked around the world with the University's Community & International Development master's program; served in preparing the School of Education for a 2011 accreditation visit; and worked tirelessly to update and upgrade the University's emergency preparedness plans.

Mutch has published articles in the Journal of Nutrition and the Journal of the American Diabetic Association, among others. She has also conducted workshops on drug abuse and prevention and is founder of the peer prevention program Adventist Youth to Youth, an international movement for drug-free living.

Mutch and her husband recently received a Recognition Award at the Eighth Annual Community Celebration of the Race Relations Council of Southwest Michigan. She is also a recipient of Andrews University awards: the Martin Luther King Legacy of Freedom Award in 2006 and the John Nevins Andrews Medallion in 2008 for excellence in teaching.