H.M.S. Richards Lectureship
Top Headlines
Date:
October 19, 2009
Contact:
pr@andrews.edu
Website:
Phone: 269-471-3348
As Clifford Jones, associate dean of the Seventh-day Adventist Theological Seminary on the campus of Andrews University, introduced the speaker for the 2009 H.M.S. Richards Lectureship on Biblical Preaching to the waiting audience in the Seminary Chapel, he described him as a "ram in the thicket."

When the original speaker couldn't make it because of an emergency, Larry Lichtenwalter, pastor of the Village Seventh-day Adventist Church in Berrien Springs, agreed to present the three-lecture series on Sunday and Monday, October 11–12, after being asked to do so just the previous Friday.

Originally scheduled to speak was John Nixon, senior pastor of the Collegedale Seventh-day Adventist Church on the campus of Southern Adventist University in Tennessee.
"Starting out, I told them that I understood very well that they went to bed Saturday night thinking they were going to see Rachael in the morning and instead found Leah," said Lichtenwalter. "It's always a challenge to come in and not be what people expected but I believe that the topic itself has enough to carry the energy because it's God's Word. "

Lichtenwalter, who has immersed himself in study of the book of Revelation for the past six years, drew heavily on the book in his messages as a source of structural, moral and spiritual examples for preaching. He reiterated throughout the series that, just like Revelation, preaching itself is God's last word to a hurting world and God's call to be like Him in the world.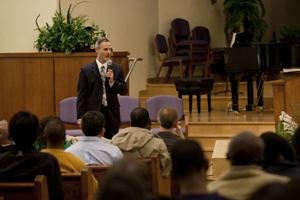 Sunday's presentation focused on strategies for developing the moral and spiritual themes of Revelation to get the larger picture. Lichtenwalter recommended that the same process he outlined could be used with any book of the Bible. He began his first discussion with the question, "Where do you keep your copy of the book of Revelation?" suggesting Scripture means much more to the reader when it is memorized.

Lichtenwalter's second message revealed the specific themes and messages of Revelation. He spoke about the character pattern that Jesus set and the pattern His people in the book of Revelation follow in self-sacrificial surrender and the suffering that is experienced when being like God in the world.

The final service on Monday morning included song and scripture, as well as Lichtenwalter's last message. "The purpose of my last message was to show from just one message in a practical way how much Jesus is connected with our world and how He knows our life and our needs and He cares for us," he said.

The H.M.S. Richards Lectureship is named after the pioneering Seventh-day Adventist preacher and founder of the broadcast ministry, The Voice of Prophecy. Richards gave the first lectures himself in 1957. The annual series is sponsored by the Seventh-day Adventist Theological Seminary at Andrews University in Berrien Springs, Mich., and seeks to advance the theory and practice of Bible-based preaching.

"I grew up listening to preachers that I can still remember to this day," said Lichtenwalter. "C.D. Brooks, Charles Bradford, H.M.S. Richards—this [lectureship] offers an opportunity for a preacher to relate how he or she does things and for all of us to be stimulated to preach better."

-Written by Kristina Penny, IMC student writer