LeClare Litchfield to Speak for Chapel
Top Headlines
Date:
October 22, 2009
Contact:
cm@andrews.edu
Website:
Phone:
LeClare Litchfield, the chaplain for Collegedale Academy in Tenn., is the featured speaker for chapel on Thursday, Oct. 29, 2009. The program will be held at Pioneer Memorial Church at 11:30 a.m.

In his message, "What Does God Want?" Litchfield will discuss questions like "What do I need?" and "How do I plug into the Holy Spirit's power to have joy in the journey?"


Litchfield obtained his ministerial degree at Newbold College. After marrying, he continued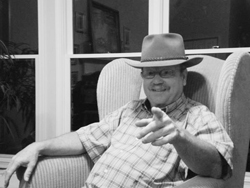 working in England for four years. Since returning to the United States in 1980, Litchfield has served in both church and academy settings. He and his wife Shelly have two sons in college, Ryan and Adam.

It was while he was a student missionary that he came to a spiritual turning point in his life. He now enjoys working with young people because they are "some of the most spiritual people on the planet."

Thursday evening, from 5-6 p.m., Litchfield will take part in a meet-n-greet in the Office of Campus Ministries. All are welcome to attend.