Sign Up Now For CWM 2010
Top Headlines
Date:
December 7, 2009
Contact:
cwm@adventistyouth.org
Website:
Phone: 269-471-8341
A tropical vacation in the Caribbean, a chance to forge meaningful lifelong friendships, a moment to reconnect and recharge spiritually, and an opportunity to serve those in need all wrapped up in one week-long event? That's exactly what Cruise with a Mission (CWM) is all about. Registration is now open for CWM 2010, which sets sail Dec. 12–19, 2010.
Cruise with a Mission is an experience of a lifetime specifically targeted for young Christian adults ages 18–35, though anyone is welcome to participate. Ports of call for CWM 2010 include Key West, Fla.; Falmouth, Jamaica; Georgetown, Cayman Islands; and Cozumel, Mexico. CWM offers mission and outreach opportunities, such as a dental clinic or delivering care packages for kids, at several ports of call. Cruise-goers will also experience group worship experiences on-board and have the opportunity to participate in island excursions. This third annual cruise is organized by the Center for Youth Evangelism (CYE).
Ron Whitehead, executive director of the CYE, says, "Cruise with a Mission isn't just a seven-day trip; it's a catalyst for life-transformation. We plan to ignite and equip young adults for service in our local communities and around the world. Our young adult partners will be key in helping this network stay connected by being contact and resource people in their local areas."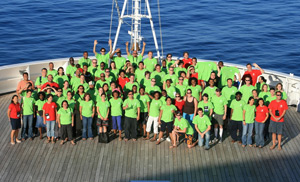 Participants of Cruise with a Mission 2008
Prices start at $599 per person for this seven-day experience. Regular rate: cruise fee + $250 until Jan. 31; cruise fee + $350 until March 30; cruise fee + $450 until Sept. 10. For more information, call 269-471-8341 or 800-YOUTH-2U, or e-mail
cwm@adventistyouth.org
. Please visit adventistyouth.org/CWM to book your Cruise with a Mission!
The Center for Youth Evangelism is a training and resource center for claiming, training and reclaiming youth and young adults for Jesus Christ. It is located on the campus of Andrews University as part of the Seventh-day Adventist Theological Seminary.