Food Drive for Neighbor to Neighbor
Top Headlines
Date:
January 22, 2010
Contact:
Website:
Phone:
For the students of Andrews University, the Martin Luther King Jr. weekend was an experience of both celebration and service. Through the MLK Food Drive, students, staff, faculty and members of the community joined together for a common cause: to help those in need.
For more than a week leading up to Dr. King's birthday, a group of volunteers collected food donations to benefit Neighbor to Neighbor, a community service organization located in Berrien Springs, Mich. Donation boxes were placed in multiple locations across campus, at the Berrien Springs Public School and the Village Adventist Elementary School. Students were also able to donate money from their own meal plans, which generated nearly $3,000 in donations. Then, on Monday, Jan. 18, all the volunteers gathered in the Office of Campus Ministries.
Timothy Nixon, chaplain for inreach, prayed before the team headed out: "We recognize that there was nothing extraordinary about [Dr. Martin Luther King Jr.], but what was special is what You did through him. And just as You worked through him, You can work through us. So we present ourselves this day in service for You."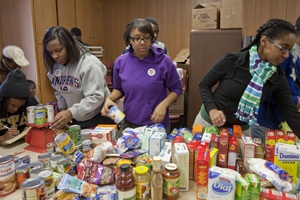 "We were expecting about 50 volunteers. In the end, we had a total of 111 volunteers," said Louise Albert, a coordinator for the event.
Together, they collected and delivered over 2,500 pounds of goods to Neighbor to Neighbor. Once everyone and all the donations were transported over to Neighbor to Neighbor, the community service center was packed.
They immediately organized and got to work. Some formed an assembly line to transport boxes from the truck into the building. Others opened boxes, weighed the contents, repacked and stacked them. Another team went to work sorting clothes by size and color in the thrift store.
"I knew a lot of people would be coming out," said Laura Meyer, executive director for Neighbor to Neighbor, "but I didn't imagine it would be so many. We really appreciate so many students taking this time out of their day off."
Sandie Martins, a pre-med freshman at Andrews, didn't see it as much of a sacrifice at all. "Actually, I loved it. I feel like doing this every day," she said. "You get to both spend time with people and help out in a way that's just so useful instead of sitting in your dorm room all day watching a movie."
The event was scheduled to take several hours, but volunteers finished processing all the donations in just two hours. Many stayed by to continue doing whatever odd jobs needed doing at the center.
"Martin Luther King Jr. gave up his time, energy and even his life to help others," said Martins. "Giving an hour or two of our time really represents him."