Soweto Gospel Choir
Top Headlines
Date:
February 16, 2010
Contact:
hpac@andrews.edu
Website:
www.howard.andrews.edu
Phone: 269-471-3560
Hailing from South Africa, the Soweto Gospel Choir adds a taste of African culture to the Howard Center Presents…2009–10 concert season at the Howard Performing Arts Center on the campus of Andrews University, Berrien Springs, Mich. This cultural celebration of music will take place Tuesday, March 2, 2010 at 7 p.m.
This 52-member choir formed to celebrate the unique and inspirational power of African Gospel music. Their talent in musical performance goes beyond gospel as they mix traditional hymns, Jamaican reggae, American pop music and spiritually-themed secular songs. The choir performs in six of South Africa's 11 official languages.
The choir, under the direction of David Mulovhedzi (recently deceased) and Beverly Bryer, has many noted performances worldwide including for former South African President Nelson Mandela. Twenty-six of the choir members regularly tour together.
The Soweto Gospel Choir picked up their second Grammy award in 2008 for best traditional world music album. In February 2009, the choir became the first South African artists to perform at the Academy Awards, when they sang "Down To Earth," Gabriel/Newman's Oscar-nominated song, with John Legend.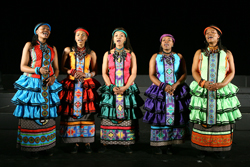 In 2003 the choir founded Nkosi's Haven Vukani, a foundation to aid South Africa's sick and impoverished, which means that families and children benefit from Soweto Gospel Choir's worldwide tours.
Tickets for the Soweto Gospel Choir are $35 and can be purchased from the Howard Performing Arts Center Box Office or by calling 888-467-6442 or 269-471-3560. For more information, visit
www.howard.andrews.edu
.