CYE Welcomes José Bourget
Top Headlines
Date:
July 7, 2010
Contact:
pastorjose@andrews.edu
Website:
http://www.adventistyouth.org/
Phone: 1-800-968-8428
The Center for Youth Evangelism (CYE) is pleased to announce José Bourget as their new assistant director. In his new role, Bourget will directly oversee Cruise with a Mission, Church of Refuge, WeCare Short-Term Mission Trips and Disaster Response, and daytime programming for the International Camporee.
Japhet de Oliveira, director of the Center for Youth Evangelism, says, "José Bourget brings to the Center for Youth Evangelism a Christ-driven passion for youth ministry, with creativity and energy. His attention to detail and large vision for youth ministry will only help strengthen the ministry services offered by CYE."
Born in the Dominican Republic, Bourget grew up in a small Hispanic church in Detroit, Mich., where he learned lots of resources isn't the most pressing need of today's church. At the young age of 14, his church family recognized his gifts and saw an opportunity to train "Today's Leader." Through the example of those church leaders, Bourget recognizes our greatest pressing need: "We must inspire, equip, empower and affirm our young people for Kingdom work. Our young people are 'Today's Leaders.'"
This new role is a like a homecoming for Bourget, who worked at the Center for Youth Evangelism during his undergraduate years at Andrews University. His first leadership roles were also at Andrews, when he served as practicum director for the Department of Religion & Biblical Languages from 2001–2003. He then served as head student dean for the men's residence halls from 2003–2005. It was during that same time Bourget was also beginning his ministry career at the Center for Youth Evangelism, where he served as both associate director of the Music and Worship Conference and director of WeCare Missions from 2003–2006. Mission trips remain one of Bourget's favorite things and a ministry he continued during his post-graduation days.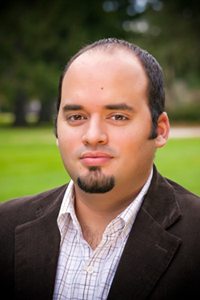 José Bourget
Upon completion of his Bachelor of Arts in 2002, Bourget's passion for ministry led him to serve as a pastor, youth pastor and associate director for Young Adult Ministries in the Illinois Conference of Seventh-day Adventists. While working in one of the largest cities in the world—Chicago—Bourget was compelled to develop fresh ways to share the good news of Jesus Christ. "Several of the outreach initiatives involved networking Adventist churches (we are stronger together) in order to partner with non-profits that had a tangible impact (Matthew 25) on the community," says Bourget. "Some of these partnerships included Avon Walk for Breast Cancer Awareness, World Relief Organization, 19th District C.A.P.S. Office, and Greater Chicago Food Depository.
Bourget is a co-founder of MyTown Ministries, a partnership between the Illinois Conference and Andrews University connecting students to a church following graduation. He co-created Oasis, a network of young adults from various Chicago churches who serve, worship and fellowship together. Bourget was also part of the student leadership team who developed Mosaic and Fusion, both innovative student-focused worship gatherings on the campus of Andrews University.
José married Marlene Santiago in 2003. They have two young children, Sophia, age 3, and Jonah, age 1. As a family they enjoy taking adventures at the park, laughing at silly things and trying new cuisines.
The Center for Youth Evangelism is a training and resource center for claiming, training and reclaiming youth and young adults for Jesus Christ. It is located on the campus of Andrews University as part of the Seventh-day Adventist Theological Seminary.