Passing of Arlene Friestad, Former Dean
Top Headlines
Date:
November 18, 2010
Contact:
pr@andrews.edu
Website:
Phone:
Arlene Isabelle Friestad, 90, of Berrien Springs, died Tuesday, Nov. 16, 2010, at her home. Funeral services will be held at 12:30 p.m., Friday, Nov. 19, at Pioneer Memorial Church, on the campus of Andrews University. Visitation will take place one hour prior to the time of the service. Friends may also visit with the family from 6–8 p.m., Thursday, Nov. 18, at Allred Funeral Home. Online messages may be left at www.allredfuneralhome.com. Burial will be at 2 p.m. CST on Saturday afternoon at the Ottawa Avenue Cemetery, Ottawa, Ill.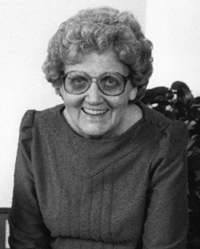 Arlene was born August 30, 1920, in Marseilles, Ill., the daughter of Fred and Isabelle (Peterson) Friestad. She graduated from Broadview Academy in Illinois, went on to earn a bachelor's degree from Emmanuel Missionary College (now Andrews University) in 1945, and later did graduate studies at Andrews University and Indiana University. She was secretary to the president of EMC from 1945–1949, and a secretarial instructor from 1951–1954. She was selected Alumnus of the Year by Broadview Academy in 1961, and by Andrews in 1975.
Arlene began her career as dean of women at Broadview Academy, where she served the 1950–1951 school year. She became dean of women at EMC in 1954 and served until her retirement in 1985. During her career, she was dean to over 6,000 women and presented over 5,000 worship talks to "her girls." She was loved and revered by all who met her.
Survivors include two sisters—Delores Prokupek of DeKalb, Ind., and Margery Taggart of Minneapolis, Minn.; eight nieces and nephews who loved and adored her—Wayne Friestad of Orlando, Fla.; Gary Friestad of St. Helena, Calif.; Barbara Brown of Calistoga, Calif.; Craig Prokupek of DeKalb; Trudy Sirany, Todd Taggart, Rhonda Ravell and Georgia Zachman, all of Minneapolis; cousin, Robert Boisso of Darien, Ill.; and her dear friend and caregiver, Darlene Weaver of Berrien Springs.
She was preceded in death by two brothers, Stanley and Francis Friestad.

-Reprinted with permission of Allred Funeral Home