CTC Hosts Wellness Week
Top Headlines
Date:
November 1, 2010
Contact:
ctcenter@andrews.edu
Website:
http://www.andrews.edu/services/ctcenter/
Phone: 269-471-3470
The Counseling & Testing Center (CTC) hosted its first annual Wellness Week October 18–23. Held in the Campus Center, the event was dedicated to the eight different aspects of wellness and instructed students how to, "Seek Empowerment. Choose Wellness. Change Your Life."
Each day throughout Wellness Week, the Center focused on a different area of wellness. The coordinators aimed "to promote wellness to students and get them aware of the different aspects, more than just the physical and social," said Jeffrey Monestime, a graduate intern at the CTC. "Sometimes students don't pay attention to all the elements... So, this is our purpose."
The week began with Monday's focus on Occupational & Financial Wellness followed by Tuesday's Emotional & Intellectual Wellness theme. Booths and activities were organized during these two days teaching students about dining etiquette, career websites and loan information. There were even opportunities for mock interviews and student resumes to be critiqued. Free depression screenings were also offered.
"Doing these depression screenings is very important to me because it gets people to come into the Counseling & Testing Center," said Donalea McIntyre, graduate intern at the CTC. "We all need someone to talk to who isn't necessarily a family member or friend sometimes, and most people aren't aware of this until they take this test."
McIntyre was not the only student who helped run the event. Students from the Department of Speech-Language Pathology & Audiology also participated by offering free hearing tests on Wednesday. Harvey Burnett's alcohol simulation activity was also popular. Harvey, assistant professor of psychology, tested students' skills with "alcohol impairment goggles" designed to educate students about the negative effects of drinking. The largest group of students showed up for this day's Environmental and Social Wellness theme.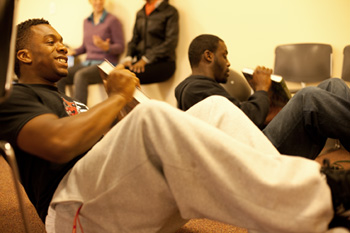 Students Herbie Edwards and Matthew Lambert participate in the
Counseling & Testing Center Wellness Week held in the Campus Center
October 18-22. On Friday, the fair focused on Physical Wellness. Students
from the Department of Nutrition & Wellness instructed their colleagues
how to perform several dorm room exercises such as abdominal workouts
using heavy textbooks. (Photo by IMC photographer Darren Heslop)
Thursday focused on Spiritual Wellness and featured representatives from Harbor of Hope, ABC Bookstore and various community churches. Students also had the opportunity to write down prayer requests and pray in large or small groups. On Friday, participants could receive free massages sponsored by Lamson Health Club, test their grip strength with students from the Department of Physical Therapy and/or check their body mass index (BMI), blood pressure and blood sugar levels at the Department of Nursing booth. The day's theme was Physical Wellness and also included learning dorm room exercises with students from the Department of Nutrition & Wellness. The week concluded with Wellness presentations at New Life Fellowship on Saturday morning.
Though the CTC has held Wellness Fairs in the past, this was the first time it hosted the event for an entire week. The idea to extend the event has "helped to bring in three to four times the number of students than we've seen in the past," said Harold Smith, CTC associate director for clinical services. Plans are already underway for a second Wellness Week to take place in the spring. The activities are just several ways the CTC is reaching out.
"We're the ones who take care of students and the community," says Smith. "When all is said and done, what do you get out of a Wellness Week? Basically, it's an attempt to keep the community well and functioning. Another main reason why we have this event is to connect the Counseling and Testing Center to a pleasant experience. That way, when the hard things do hit, we want to become the student's provider of choice."
The CTC encourages students and their spouses to attend short-term counseling services by simply coming in and talking things out, says Smith. These services are free of charge and are conducted by licensed psychologists, counselors and graduate interns. The Center was recently fully reaccredited by the International Association of Counseling Services and is teaming up with Duane McBride, director of the Institute for Prevention of Addictions, to sponsor a five-year risk study in the spring.
For more information about the Counseling & Testing Center, visit
www.andrews.edu/services/ctcenter
or call 269-471-3470. The Center is located in Bell Hall, Suite 123, adjacent to the Andrews University Bookstore.
-Written by Ashleigh Jardine, student news writer, Office of Integrated Marketing & Communication