CYE Hosts Youth Leadership Summit
Top Headlines
Date:
November 1, 2010
Contact:
cye@andrews.edu
Website:
http://www.adventistyouth.org/
Phone:
The Center for Youth Evangelism (CYE) provided training for youth leaders, pastors, children's ministry leaders and Pathfinders during the annual Youth Leadership Summit held October 22–24, 2010. The Center celebrated its 30th anniversary weekend during the event while hosting some 250 participants from across the country.
This year's summit began Friday with hour-long seminars taking place all day in the Seventh-day Adventist Theological Seminary at Andrews University. Leaders from the CYE, Seventh-day Adventist conferences and Andrews University led out in a series of meetings directed towards youth ministry leaders and specialists. The sessions covered a wide range of topics and continued all day Saturday and Sunday morning.
Nicholas Zork, director of the Andrews University Music & Worship Conference, was one such leader who presented during the event. He led out in several worship ministry sessions and described worship as a time where, "We tell God's story through Scripture." He offered practical advice for planning worship services and identified specific ways "to interweave God's story with young people in worship."
The information was especially helpful to Luvisca Payne, an Andrews graduate and current ministry leader from Naples, Fla. Payne explained, "I teach my young people on Sabbath mornings and they bring their pens and notebooks, and they think it [Sabbath School] is boring. I was really interested in what Mr. Zork said about the disconnection between the speaker and the youth."
Tim Nixon, Andrews University chaplain for Inreach, also led out in several meetings and presented on the topic "Mentoring 101."
"One thing I really appreciated about that [Mentoring 101] session was how much the training is actually needed. It's not a topic we talk about a lot," said Andy Arends, student at the Andrews University Seventh-day Adventist Theological Seminary. "We learned about biblical contexts mentoring and effective principles of mentoring, and how to actually train people. This is something we really need in our churches. It's nice to get a fresh perspective on some of it and hear new ideas."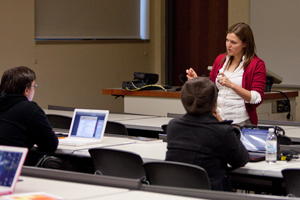 Keren Toms, Andrews University chaplain for Outreach,
presented two seminars: "Evangelism Outreach Ministry"
and "Leadership Skills 101." (Photo by IMC
photographer Katelin Mitchell)
Other topics such as Child Development, Leadership Skills, Conflict Management and Outdoor Education were also addressed during the weekend meetings. In total, over 50 hours of training seminars were offered during the event, including a new Spanish track, which was introduced for the first time this year.
"I hope that the people who came for the seminars left not only having a better understanding of what they're doing and why they're here but also of practical ways to put them to use," said Keren Toms, Andrews University chaplain for Outreach. "... Hopefully through the seminars that spirit can be revived in people and they can be refreshed, educated and full of new ideas."
This summit was organized by Craig Harris, associate youth director for the Michigan Conference; Massiel Davila, assistant director for Youth Leadership Development; and Japhet De Oliveira, director of the Center for Youth Evangelism. The Lake Union Conference Youth and Young Adult Department also partnered in the event.
Organized for the first time in 1981, various youth ministry training seminars were among the first programs offered at the Youth Resource Center. Under the leadership of former Youth Resource Center director Des Cummings Jr. (1979–1985), the meetings have expanded to reach hundreds of ministry leaders each year, teaching them the "how-to's" of youth ministry through practical training sessions. It was renamed the Center for Youth Evangelism in 1996 and today Youth Leadership Development is just one of several training and outreach opportunities offered at the CYE. To learn more about the CYE or CYE events, visit
www.adventistyouth.org
.
The Center for Youth Evangelism is a training and resource center for claiming, training and reclaiming youth and young adults for Jesus Christ. It is located on the campus of Andrews University as part of the Seventh-day Adventist Theological Seminary.
-Written by Ashleigh Jardine, student news writer, Office of Integrated Marketing & Communication