Dairy Wins Milk Production Awards
Top Headlines
Date:
February 16, 2011
Contact:
Website:
Phone:
On January 18, 2011, at the annual meeting of the Berrien County Dairy Herd Improvement Association, the Andrews University Dairy walked away with the majority of the awards for milk production in 2010. Among them were the prestigious "High Herd in Butterfat" and "High Herd in Milk" with an average of 26,803 pounds (3,117 gallons) of milk per cow last year. The dairy also won the "High Cow in Milk Production" with Cow #2354 producing 38,044 pounds (4,424 gallons) of milk last year. They also won most of the awards for milk production by cows in different age categories.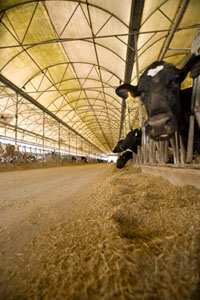 The majority of the 800 cows at the Andrews University Dairy are black and white Holsteins but there are a number of red and white Holsteins and a few other breeds—Jerseys, Jersey-crosses and Brown Swiss. The calves born at the dairy stay here until they go to the farm at Indiana Academy when they are about 4–5 months old. They return to the dairy shortly before they have their first calf at two-years-old. Altogether there are about 1,500 cattle owned by Andrews University.
The dairy employs eight full-time staff (several of whom also teach agriculture classes) and 45–50 students on a part-time basis each year. The students were able to earn a total of more than $168,000 toward their tuition and school expenses last year.