Envision Now Available
Top Headlines
Date:
February 9, 2011
Contact:
dmichel@andrews.edu
Website:
www.envisionmagazine.com
Phone:
After a semester of writing, photographing, editing and designing,
Envision
magazine's winter/spring 2011 issue is finished and available. The magazine, created and designed exclusively by Andrews University students, features inspiring stories as well as various articles, poetry, photography and art work. This is the second issue of the magazine.
"This magazine is a showcase of Christian collegiate youth," says Debbie Michel, associate professor at the Department of Communication and
Envision
editor-in-chief. "There's so much talent in the community that needs to be seen. But on a spiritual level, the talent that the stories are encased in serves as an attractive vessel for the testimonies and the gospel."
Sponsored by the Department of Communication, the Christian collegiate lifestyle magazine was officially released on Thursday, Feb. 3. The current issue includes topics like paying for graduate school, decorating dorm rooms, surviving the winter blues and even recipes for preparing vegan meals.
Ideas for this issue of
Envision
began to take shape at the beginning of the school year. Students from Michel's Beginning Media Writing class came up with story ideas and served as writers and section editors throughout the fall semester. The class collaborated with students from Advanced Studio Photography, Educational Psychology and InDesign courses as well as student volunteers who offered to be models and stylists.
What makes
Envision
so unique is its direct focus on the student. "The magazine is designed for students and made by people just like them," says Glenn Roper,
Envision
managing editor. "The advice is real and it has topics that go far beyond what you may typically find in any magazine." Roper, a senior communication major, also worked on the first
Envision
issue released during the 2009–2010 school year.
The magazine also gives practical experience to a host of communication, photography and journalism majors looking for real-life opportunities in the field. Christine Lairson, a journalism and English major, served as an
Envision
section editor/writer. She says, "It truly is an extraordinary opportunity for students at Andrews to get practical experience and add a little something to their resumes."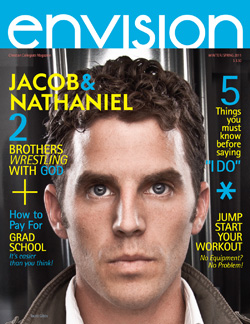 Lairson is currently interning at
Glamour Magazine
in New York City and claims her experience with
Envision
is helping her realize her dream of becoming a magazine editor someday.
Envision
is available for sale at the Andrews Bookstore, Gazebo, Apple Valley, Harding's and the local Adventist Book Center. The third issue, which is already in the early stages of production, is scheduled for release in the fall. The Andrews University Department of Communication plans to publish a new issue each semester. They are looking for writers, photographers, graphic designers, stylists, models and anyone who "wants a fun magazine production experience."
To become involved and/or learn more about
Envision
, visit
www.envisionmagazine.com
or e-mail Debbie Michel at
dmichel@andrews.edu
.
-Written by Ashleigh Jardine, student news writer, Office of Integrated Marketing & Communication