Students Serve with Sunday Projects
Top Headlines
Date:
February 14, 2011
Contact:
sundayprojects@andrews.edu
Website:
Phone: 269-471-3211
The Andrews University Office of Campus Ministries has created a new outreach program for students this school year. Inspired by Jesus' words, "The Son of Man did not come to be served, but to serve..." Sunday Projects provides both community service and evangelistic opportunities in the local community and neighboring towns. The ministry focuses on practical needs and participates in hands-on activities, ranging from children's ministries to providing food baskets and even an occasional painting job, every other Sunday.

With the help of Debra Panozzo, Berrien County Michigan's adult and family volunteer coordinator, Sunday Projects has assisted local thrift stores, churches and families in need since the beginning of the 2010–2011 school year. During one of the first projects, students organized the children's program at the First Presbyterian Church in Benton Harbor, Mich.

"We finally have people that are willing to tell the stories of the Bible to our children!" exclaimed the church pastor, who was so impressed with the group she has invited them to lead the children's program twice a month.

The experience was also touching for University students and has inspired several to lead out in the program ever since. "It is very obvious that these kids have never heard many well-known Bible stories such as Jonah and Noah's Ark, so it is a cool feeling to walk away each Sunday knowing that something has been accomplished," says University student Amanda Corea. Amanda, an international community development and modern languages major, looks forward to Sunday Projects week after week for the satisfaction of knowing that "what we do affects people."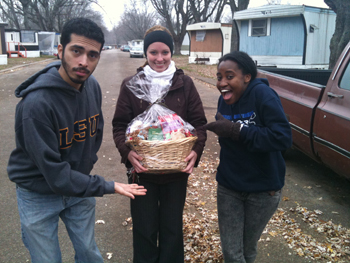 Andrews students Pablo Ariza, Mariella de Armas, Tatiana Romelus
participated in Sunday Projects during the Thanksgiving basket
distribution. (Photo contributed by Jessie Lopez)
"We are all children of God and should work together more often as such," she says. "We would get so much more accomplished as a Christian community!"
Another favorite project took place over the Thanksgiving holiday. With the help of the Berrien Springs Spanish Seventh-day Adventist Church outreach team and a Pathfinder group from the Benton Harbor Spanish Seventh-day Adventist Church, Sunday Projects organized and delivered food baskets to local families in need. They called the project "The Thanksgiving Bag Give Away" and handed out not only groceries and holiday treats, but also Bibles.
Sunday Projects is growing and continues to spread the gospel through acts of service in the community. Your prayers would be appreciated for this ministry. To get involved or learn more, visit the Sunday Projects Facebook page by typing "Sunday Projects" in the search box or by e-mailing
sundayprojects@andrews.edu
.