Andreasen Receives Weniger Award
Top Headlines
Date:
March 2, 2011
Contact:
pr@andrews.edu
Website:
Phone:
President Niels-Erik Andreasen received the Charles Elliot Weniger Award for Excellence on January 29, 2011, in recognition of his long career in theology and leadership for the Seventh-day Adventist Church. The award was presented during the annual meeting of the Charles E. Weniger Society held at the Loma Linda University Church in Loma Linda, Calif.
This year's meeting featured keynote speaker Joan Coggin, a past honoree, and award presentations by Lawrence Geraty, chair of the Weniger Executive Committee. Geraty said of Andreasen, "Niels-Erik Andreasen has distinguished himself as an innovative leader in Adventist higher education, as a trusted theologian in circles where the Bible is respected, and as a sought-after diplomat in a worldwide denomination often beset by challenges."
Andreasen was one of four award recipients at the meeting alongside a U.S. Army General/psychiatrist, a Biblical languages scholar and a psychiatrist/educator.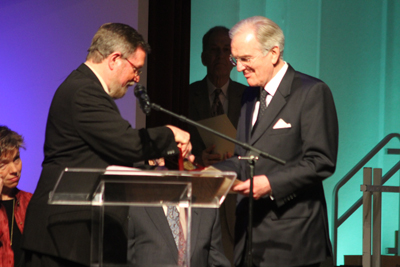 Lawrence Geraty, chair of the Weniger Executive Committee, presented
the award to President Niels-Erik Andreasen.
"Effective leadership, in order to be persuasive, must come from within. It must be consistent and coherent and characterized by integrity. It must be genuine all the way through," said Andreasen in his acceptance speech. "Leadership in a Christian organization and institution, especially, must seek to implement such a concept of leadership that comes from within, that does not blush when the camera is on, that does not need to turn off the microphone before speaking. The Adventist church would do well to develop and exhibit that kind of leadership style and offer it as a model to the general public."
Andreasen concluded his speech by sharing his leadership prayer; one he says each morning before his first appointment.
The Weniger Society was established to preserve and protect the qualities, inspiration, motivation and excellence that were paramount in the life and service of Charles Elliott Weniger, a noted scholar, public speaker and professor. Weniger's memory has been kept alive by a committee of former students, colleagues and admirers of his excellence who seek to identify and recognize significant persons who demonstrate servant hood and Weniger's compassionate demeanor. Nominees are recognized as individuals having made significant contributions to their communities, the Seventh-day Adventist Church and the world. Since the society was founded in 1974, 150 Weniger Awards have been given.