City of Tomorrow at Howard
Top Headlines
Date:
September 27, 2011
Contact:
ksuarez@andrews.edu
Website:
Phone: 269-471-3348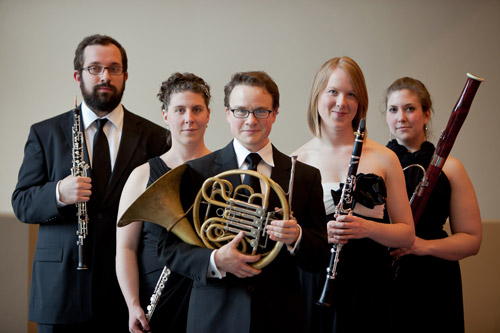 City of Tomorrow will stop at the Howard
Berrien Springs, Mich.— Before evening rehearsals, the five members City of Tomorrow Quintet like to make dinner together. These culinary comrades and musical visionaries will perform at Andrews University on Sunday, Oct. 2 at 7 p.m. as part of the Fischoff Gold Medal Tour.
A touring group based in Chicago, Washington D.C. and Portland, Ore., the City of Tomorrow envisions the expansion and quality of wind instrument repertoire and aims to "breathe life into 20th century classics." They advocate the works of Lee Hyla, George Perle and other contemporary wind composers.
The City of Tomorrow won First Prize in the wind division of the 2011 Fischoff National Chamber Music Competition. They premiered Italian composer Franco Donatoni's quintet "Blow" in 2010 at Northwestern University in Evanston, Ill.
Five musicians make up the internationally known quintet: Lauren Cooper, clarinetist, recently joined the United States Navy Band; oboist Andrew Nogal has played with the Chicago Symphony Orchestra and the new Ensemble Dal Niente. Flutist Elise Blatchford regularly tours with the Youth Orchestra of the Americas, bassoon player Amanda Swain won the Meg Quigley Vivaldi Competition, and horn player Leander Star has created his own music school in Evanston. Quintet members have recently toured in Japan, China and Oregon.
Tickets for City of Tomorrow can be purchased by calling the Howard Performing ArtsCenter box office at 269-471-3560 or 888-467-6442. Tickets are $5 for general admission and Andrews University students are free. Learn more by visiting www.howard.andrews.edu.
The Howard Performing Arts Center is a premier 850-seat concert hall on the campus of Andrews University. Founded in 1874,Andrews University is the flagship institution of higher education for the Seventh-day Adventist church, located one-half mile east of the U.S. 31 Bypass in Berrien Springs, Mich.