Flores, Gonzalez Faculty Recital
Top Headlines
Date:
October 25, 2011
Contact:
howard@andrews.edu
Website:
howard.andrews.edu
Phone: 269-471-3560
Carlos Flores, professor of music and chair of the Department of Music, and Claudio Gonzalez, associate professor of music, will give a Latin-themed recital on
Saturday, October 29, at 8 p.m.
The duo will perform works by Albeniz, Ponce, Villa-Lobos and Ginastera.
Pianist Carlos Flores, a native of Mexico City, began his musical training at the age of six. He holds a PhD in music theory with musicology and performance from the University of North Texas. He has worked in higher education as a music teacher, pianist, choral director, orchestra conductor, department chairman and administrator. As a performer, he has presented numerous concerts and recitals in Mexico, Puerto Rico and the United States. He is the author of a music theory textbook, which has been published both in Spanish and English, as well as of numerous articles on music.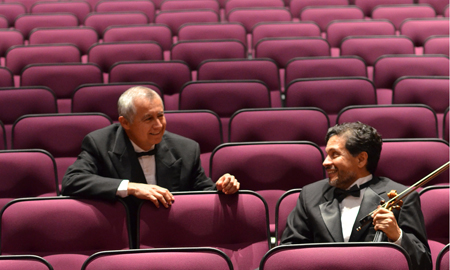 Carlos Flores, left, and Claudio Gonzalez, right, will perform a
faculty recital on Sunday, October 29, at 8 p.m.
Venezuelan-born violinist Claudio Gonzalez holds a degree in violin studies from the Royal College of Music in London. In 1974, he attended the World Orchestra of the International Federation of Young Musicians as a delegate from Venezuela where he had the opportunity of playing under Leonard Bernstein, Michael Tilson-Thomas and Seiji Ozawa. The following year, under the guidance of Jose Antonio Abreu, he formed part of the group that founded the National Youth Symphony of Venezuela. As a professor, Gonzalez was very active as a chamber musician with the Cuarteto Rios Reyna of Caracas as well as guest conductor of orchestras in Venezuela. From 1995 to 1999, he was assistant conductor of the Chacao Youth Symphony in Caracas and music director of the Chamber Orchestra of Universidad de Carabobo in Valencia, Venezuela. He also studied violin and orchestral conducting at Michigan State University, where he received a Masters in violin performance in 1994 and a doctoral degree in orchestral conducting in 2003. He currently conducts the Andrews University Symphony Orchestra and Sinfonietta.
Tickets are $10 for general seating, $5 for faculty and staff, and free to all Andrews University students. Contact
howard@andrews.edu
for more information.