Murray Wins Teaching Award
Top Headlines
Date:
December 7, 2011
Contact:
Website:
http://www.bestearly.com
Phone:
Desmond Murray, assistant professor of chemistry in the Department of Chemistry & Biochemistry at Andrews University, was selected by the Board of the Michigan Science Teachers Association (MSTA) as the College Science Teacher of the Year for 2012. Murray will be formally recognized at an awards ceremony on March 9, 2012, at the 59th Annual MTSA Conference in Lansing, Mich.
This award is given to science teachers in four areas: elementary, middle school, high school and college. The winning teachers are chosen for their use and modeling of best practices, inspiring their students, demonstrating innovative teaching strategies, being excellent role models for students and fellow educators, demonstrating leadership, and exhibiting a passion for science and teaching.
Other 2012 science educator awardees are: Mary Lindow, Battle Creek Area Math and Science Center (High School); Susan Tate, Whitehall Middle School (Middle School); and Rebecca Durling, Discovery Elementary School (Elementary School). Gary Abud of Grosse Pointe North High School received Science Teacher of Promise and the Informal Science Educator of the Year was awarded to Sarah Halson, environmental education manager at The Greening of Detroit, a non-profit organization.
Murray says, "I believe my single most important teaching innovation is promotion, implementation and continuous improvement of early research participation (ERP) at both the high school and college levels. This provides youth with unique opportunities to conduct authentic research four to eight years before it is traditionally done. The implementation of ERP at the high school and college levels has clearly demonstrated they are capable and eager to begin early research participation."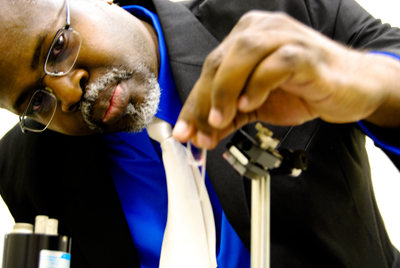 Desmond Murray, assistant professor of chemistry
Murray describes his early research participation programs as 'incubators of innovators' that engage students in research and discovery including synthesis of sunscreen materials; sensors for toxic substances found in the environment, agricultural pesticides and chemical warfare agents; and new 'hybrid' drugs that offer the potential of reducing the number and cost of drugs while increasing their efficacy.
Murray has taught at Andrews University since 1995. In addition to his college level teaching load, he also instructs grades 10 and 12 in chemistry for the Berrien RESA Math & Science Center, which is located on the campus of Andrews University. He was recognized as the "2010 Thought Leader in Education" by the Business Review West Michigan. Murray is passionate about his ChemSem Blog, an innovative way for chemistry and biochemistry majors to communicate online about current scientific research, and ChemSem Live, a live streaming broadcast of the Department of Chemistry & Biochemistry's weekly guest speaker lecture series. Murray also works in collaboration with the Benton Spirit, a community newspaper, on LabTales and ChemiVerses, a way for students to communicate science and research to a general public readership.
Murray is the founder of BEST Early (Building Excellence in Science & Technology), a nonprofit that has been providing science- and research-related apprenticeships for high school and college students for 10 years. Additional information about each of these programs can be found at
www.bestearly.com
.